[January 22, 2013]

Send a link to a friend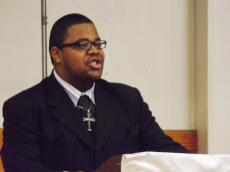 When the Lincoln College Choir completed their piece, Ackerman returned to the podium to share some news about the scholarship fund. She said that recently the committee had decided they wanted to take the fund a step further and turn it into an endowment so it can be carried on for many years to come.
They set a goal of raising $20,000 for the endowment fund. Last year they raised $4,000, then were blessed to receive a $10,000 grant from the Woods Foundation in Lincoln. Ackerman said the grant had specified that the committee would have five years to raise their share, or an additional $6,000.
Ackerman (pictured below) said she was very pleased to announce that at the end of this year's event, they were going to be very, very close to having their full match, in only two years.
The last speaker of the day was Michael Coley. Coley has been a pastor since the age of 15. He is currently the youth minister at a church in Decatur as well as a student at Lincoln College.
Coley gave a moving and heartfelt rendition of Martin Luther King Jr.'s "I Have a Dream" speech, which in the end brought the audience to their feet in a standing ovation for the performance.
The event was brought to a close by Shelton, who led the audience in the song "We Shall Overcome," while the youth of the Second Baptist Church served as ushers for a freewill offering.
Shelton then sent the audience on their way with a benediction and blessing.
Pictures by Nila Smith