William Ross
[January 23, 2013] WAYNESVILLE -- William E. Ross, 89, formerly of Waynesville, died Tuesday, Jan. 22, 2013, at 11:05 a.m. at VA Illiana Heath Care in Danville.
(Below is a copy of the obituary from the funeral home.)
___
Waynesville – William E. Ross, 89, of Danville, formerly of Waynesville, passed away Tuesday, January 22, 2013, at 11:05 a.m. at VA Illiana Healthcare center in Danville.
Funeral services for Mr. Ross will be held on Saturday, January 26, 2013, at 10:00 a.m. at Quiram-Peasley Funeral Home in Atlanta.
Visitation will be held from 9:00 until 10:00 a.m. prior to the funeral service.
Burial will be in Evergreen Cemetery in Waynesville.
Surviving Mr. Ross are his cousins: Joyce Shaffer, Marilyn Calame, Betty Finfrock, Gay Peters, Jon Harris, David Harris.
He was preceded in death by his parents and three infant sisters.
William Ernest Ross was born on July 1, 1923, in Milwaukee, Wis., the son of John and Pearl Matthews Ross.
Mr. Ross proudly served in the United States Army during WWII. William served in the Medical Corp. as a Combat Surgical Technician during major battles in the Pacific. He was awarded the Purple Heart and the Bronze Star for courageous service.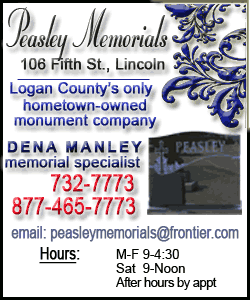 William was well-known for his piano playing talent with which he enjoyed entertaining friends and relatives. He farmed in the Waynesville area.
His later years were spent in the VA home in Huntsville, Ill. and the Danville Medical Center.
Mr. Ross was a member of American Legion Post 1189 in Waynesville.
Memorials may be made to American Legion Post 1189 of Waynesville.
Final arrangements are entrusted with Quiram-Peasley Funeral Home of Atlanta.