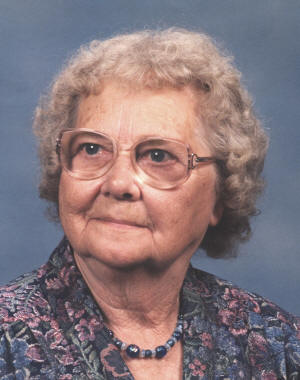 Lenora 'Sis' Tibbs
[January 22, 2013] NEW HOLLAND -- Lenora "Sis" Amelia Tibbs, 97, of Lincoln, formerly of New Holland, died Monday, Jan. 21, 2013, at 10:46 a.m. at St. Clara's Manor.
(Below is a copy of the obituary from the funeral home.)
___
NEW HOLLAND-Lenora "Sis" Amelia Tibbs, 97, of Lincoln, formerly of New Holland, IL died at St. Clara's Manor, Lincoln, on Monday, January 21, 2013 at 10:46 a.m.
Lenora was born on October 23, 1915 in New Holland, IL the daughter of Harry and Anna Hinck Blaum. She married Henry F. "Hank" Tibbs on February 28, 1948 in Lincoln, IL. He preceded her in death March 21, 1982.
Sis is survived by two daughters: Cheryl (Ron) Armintrout of Riverton, IL
and Colleen (Brian) Kessinger of Lincoln, IL; one daughter-in-law: Carol Tibbs; seven grandchildren: Pamela Tibbs, Philip (Erika) Tibbs, Patrick (Trisha) Tibbs, Carlyn Shank, Michael (Heather) Armintrout, Nathaniel (Whitney) Kessinger and Alison Kessinger; seven great grandchildren: Lexi, Alaina, Alyssa, Devin, Nicholas Tibbs; Avett Shank, Nova Armintrout; one brother: Merle (Dorothy) Blaum of New Holland.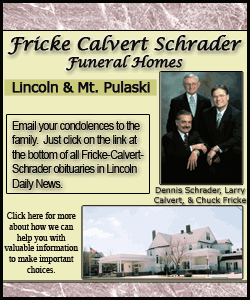 She was preceded in death by her parents; one son: Nick Tibbs; brothers: Lynn Blaum; Harry Blaum; Gilbert Blaum and Loren Blaum; sister: Mildred Beaver.
Sis was a homemaker; member of New Holland United Methodist Church; 4-H leader of Logan County 5-H club. The family would like to thank the staff at St. Clara's Manor for 13 years of care and the Memorial Services Hospice for their care.
Services for Lenora will be Thursday, January 24, 2013 at 7:00 p.m. at Fricke-Calvert-Schrader Funeral Home, Lincoln with Dr. Rev. Jonathan Dixon officiating. Visitation will be from 4:00-7:00 pm at the funeral home prior to services. Burial will be Friday at 10:00 a.m. in Richmond Grove Cemetery, New Holland, IL. Memorials may be given to New Holland Methodist Church.