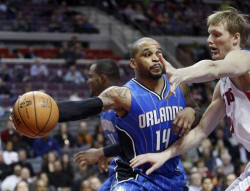 Pistons outmuscle Magic in 105-90 win
Send a link to a friend
[January 23, 2013] AUBURN HILS, Mich. (AP) -- Jason Maxiell, Andre Drummond and Greg Monroe combined for 38 points and 28 rebounds, and the Detroit Pistons pulled away to beat the undersized Orlando Magic 105-90 Tuesday night.
Brandon Knight led Detroit with 18 points, while Monroe scored 16 and Drummond and Maxiell each had 11 points and 11 rebounds.
The Pistons also finished with a 16-6 edge in offensive rebounds against the Magic, who had their size issues magnified when Glen Davis was benched for much of the second half after taking 15 first-half shots and grabbing just three rebounds. He attempted just one shot the rest of the way and finished with 11 points.
J.J. Redick was Orlando's biggest threat, scoring 26 points on 9-for-10 shooting -- including 5 for 6 on 3-pointers. Jameer Nelson added 14 points and nine rebounds.
After an even first half, the Pistons got a tiebreaking basket after a strange play to end the second quarter. Detroit had a foul to give, so Will Bynum grabbed Nelson 30 feet from the basket. Nelson, trying to draw a shooting foul, flipped the ball straight up into the air. Both teams froze, expecting a whistle, but when nothing was called, Kyle Singler grabbed the loose ball and Monroe finished the half with an uncontested dunk.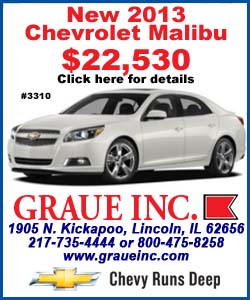 That put the Pistons up 54-52 at the half despite 17 first-half points from Redick. He hit all six of his first-half shots, including three 3-pointers and a four-point play. Maxiell had nine points and 11 rebounds in the half for Detroit.
Monroe and Drummond combined for 16 points in the third quarter, including back-to-back dunks by Drummond in the last minute of the period, as Detroit built a 82-66 lead. By the fourth quarter, even 6-foot-5 Rodney Stuckey was dunking in traffic against the lethargic Magic defense.
NOTES: Busta Rhymes provided the six-minute halftime show, but also had a technical glitch. After his first song, he dropped the microphone, which then rolled off the makeshift stage. Luckily, a quick-thinking stagehand was able to retrieve it after a few seconds. ... Nelson had to be escorted off the court by teammates after continuing to argue the no-call at the end of the half. ... After missing his first shot of the second half, Davis picked up a technical foul from the bench and ended up with three teammates and an assistant coach surrounding him to prevent an ejection. He only returned briefly when the game was out of hand.
Copyright 2013 The Associated Press. All rights reserved. This material may not be published, broadcast, rewritten or redistributed.