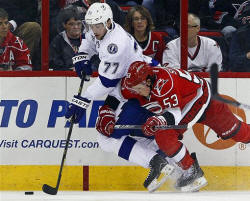 Aulie, Lightning top Hurricanes 4-1
Send a link to a friend
[January 23, 2013] RALEIGH, N.C. (AP) -- Keith Aulie scored the momentum-shifting goal that propelled the Tampa Bay Lightning past the Carolina Hurricanes 4-1 on Tuesday night.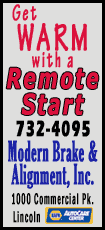 Tom Pyatt and Cory Conacher scored early goals, Ryan Malone added a power-play tally, and Vincent Lecavalier had two assists. The Lightning pulled away with two goals in the third period.
Jeff Skinner scored a power play goal for the Hurricanes, who had their home opener spoiled by Tampa Bay for the second straight season.
Mathieu Garon stopped 35 shots -- including all 15 he faced in the third period of his first start this season for the Lightning, who opened the lockout-compressed season with two wins in three games.
Cam Ward made 22 saves, but allowed four goals for the second straight game. The Hurricanes have started a much-anticipated season with two losses and have been outscored by a combined 9-2. Carolina has dropped four straight home openers.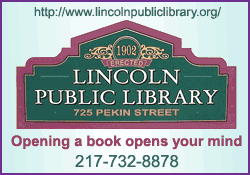 Skinner cut Carolina's deficit to 2-1 when he scored a power-play goal 3:45 into the second, backhanding a rebound high past Garon.
Aulie restored the Lightning's two-goal lead 1:37 into the third when he skated unimpeded into the left circle and beat Ward with a high shot for his first goal since the 2010-11 season.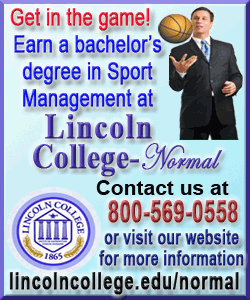 Malone then put Tampa Bay up by three when he stuffed in a loose puck on the power play with 10:03 left.
Ward was back in net three nights after allowing four goals on just 12 shots in a 5-1 loss at Florida -- and the Lightning continued his rough start by scoring on two of their first five attempts.
Pyatt struck first just 5:18 in when he got past Bobby Sanguinetti, took a pass from Lecavalier and batted the puck out of the air past Ward. Conacher made it 2-0 by shoving in a rebound with 8:24 left.
NOTES: The Sanguinetti-Joni Pitkanen defensive pairing for Carolina was on the ice for Tampa Bay's first two goals. . Conacher has five points in three games. . Carolina's Alexander Semin struck the left post with a shot during a power play early in the second period. . Former Pittsburgh Steelers coach Bill Cowher watched from the stands. His son-in-law, RW Kevin Westgarth, made his debut with Carolina.
[Associated Press; By JOEDY McCREARY]
Copyright 2013 The Associated Press. All rights reserved. This material may not be published, broadcast, rewritten or redistributed.