Mr. Lincoln was a lawyer on the Illinois 8th Judicial Circuit, including court sessions at Postville and Mount Pulaski, before becoming president of the United States. The original Postville Courthouse was purchased by Henry Ford in 1929 and moved to Dearborn, Mich. The courthouse that stands on the Fifth Street site today is a replica that was built in 1953 as part of the city's centennial celebration. The Mount Pulaski Courthouse, the county seat from 1848 to 1855, is an original courthouse building where Mr. Lincoln practiced law.

Mount Pulaski's celebration on Feb. 9 will run from 10 a.m. to 4 p.m. The featured speaker will be Brian "Fox" Ellis, a local favorite, who will portray William Herndon during an 11 a.m. presentation. Herndon and Lincoln were law partners. The free public program will be in the second-floor courtroom where Lincoln, Judge David Davis, Stephen A. Douglas, Leonard Swett, Herndon and other lawyers of the mid-1800s 8th Judicial Circuit practiced law. From 1 to 3:30 p.m. there will be activities in a children's area with craft supplies for making cards, bookmarks and pictures, along with an Abraham Lincoln scavenger hunt. Complimentary Mary Todd Lincoln cake will be provided throughout the day.

The celebration at Postville Courthouse will be from noon to 5 p.m. The annual celebration will include tours, refreshments, Abraham Lincoln interpreter Gary Simpkins and presentations by the Civil War Ladies. Dorothy Salinger and friends will present a program on clothing of that era at 1 p.m. and 3 p.m.

The Abraham Lincoln Tourism Bureau of Logan County encourages visiting both sites as they celebrate one of the most important people in our heritage, Abraham Lincoln. For more information, call 217-732-8687.
---

1st fundraiser set for new Abraham Lincoln statue
The Abraham Lincoln Statue Committee will have their first fundraiser on Tuesday, Feb. 5, from 5 to 8 p.m. at Culver's in Lincoln. The committee will serve Mary Todd Lincoln's delicious cake, and Culver's will serve the special yogurt of the day: old-fashioned vanilla yogurt.
The proposed Abraham Lincoln bronze statue will commemorate the speech he made on Oct. 16, 1858, on the courthouse lawn in Lincoln.
Informational brochures will be available at the fundraiser at Culver's, and the committee will be dressed in period costumes.
If you are unable to visit Culver's that evening and would like to make a donation, make your check payable to LCGHS, mark your check for "A. Lincoln Statue," and mail to LCGHS at 114 N. Chicago St., Lincoln, IL 62656
The Logan County Genealogical & Historical Society is a 501(c)(3) charitable organization, and donations are tax-deductible.
---

Relay For Life of Logan County receives American Cancer Society Relay All Star Award
Relay For Life of Logan County was awarded the American Cancer Society's prestigious Relay All Star Award at the society's Relay Leadership Summit in Itasca.
With the Relay All Star Award, the Illinois Division of the American Cancer Society honors events that achieve significant fundraising and participant growth. In 2012, Relay For Life of Logan County raised approximately $77,514 with nearly 401 participants.
"By supporting Relay For Life of Logan County, our volunteers are helping us save more lives faster," said Alan D. Lev, chairman of the board of the American Cancer Society's Illinois Division. "We invite all Logan County residents to join us in fighting for every birthday threatened by cancer."
This year the Logan County Relay for Life will be from 6 p.m. June 14 to 6 a.m. on June 15 outside at the Lincoln Center on the Lincoln College campus.
Teams are signing up members to help the Logan County Relay reach the $1 million mark for the lifetime of the county's events, which began in 1998. With 2013 as the 16th year in Logan County, and being only $1,320 away from that milestone, the organization continues to strive to help find a cure while also supporting services that benefit survivors.
To register a team, call Carolyn Motley, 732-8032. Questions from past teams can also be directed to her or this year's co-chairs: Nicole Tripplett Lee, Amy Weidhuner or Tabitha Weidhuner.
The next meeting is Feb. 25 at 6:30 p.m. at Lincoln Christian Church. Anyone interested is welcome.
---

Historical society seeks submissions for new 'Neighborhoods' book
A new book entitled "Neighborhoods, Lincoln, IL" is being published by the Logan County Genealogical & Historical Society and the Lincoln Woman's Club, with Lincoln city and rural residents being asked to submit photos and resumes about their homes or homes of ancestors.
Diane Cherry Osborn, a seasoned writer from the Lincoln area, will compile the book, which is to include maps, vignettes on people instrumental in the city's development, and features on homes of architectural, historical and social significance. Also included in the book will be homes no longer in existence.
Socially significant homes would be those that have been occupied by well-known people, several generations of a family or by a family for a significant number of years. Also included would be homes considered "landmark" homes because of their location. This might include the first houses built on a street or in a subdivision, on a corner, or one that just captures attention.
Photos and information may be sent to Diane Osborn, 411 College Ave., Lincoln, IL, 62656; or emailed to diane.osborn@comcast.net. By phone, she may be contacted at 217-605-0011. Items may also be brought to the Logan County Genealogical & Historical Society office at 114 N. Chicago St.
Submitted information of interest could include the subdivision or addition where the home is located (this can be found on the tax bill or abstract), such as the Original Town of Lincoln or Knapp, Bird, & Tinsley; age of home; builder of home; previous occupants and years of occupancy, if known; number of generations of family at this residence or location; number of rooms; and other significant details about the home.
Information for the book, including photos of homes no longer in existence, will also be accepted from the public.
Photos should be clear and of 5-by-7 size, except for especially significant homes, for which 8-by-10 photos will be accepted. Black-and-white photos are preferred.
Osborn says: "Do not let your home be left out of this historical work. It is anticipated to become a cherished collector's item in future years."
Only a limited number of copies will be printed.
Following publication of this book, it is anticipated that "Neighborhoods" books on homes in other areas of Logan County will be developed.
---

Atlanta Public Library: Exciting times, growth in services
ATLANTA -- Cruising through Atlanta, Ill., on Old Route 66, you will come to an unusual eight-sided building at the corner of SW Arch (Route 66) and SE Race streets. This architectural gem is the Atlanta Public Library, a historic building that was constructed in 1908 and is now listed on the National Register of Historic Places. Only one other example like this exists, the public library in El Paso, Ill.
Walk inside the building and you find the usual shelves of books, magazines and newspapers common to libraries. But dig a little deeper, and a person will find a growing list of exciting programs that are available to the community -- programs designed to encompass activities for preschoolers to senior citizens.
Cathy Maciariello was recently appointed director of community programs for the library in Atlanta and has been ramping up the program menu from a modest beginning in 2011 to a wide variety of offerings today, some of them unique to the library district, such as the Behind the Scenes programs.
One of the success stories is the children's programming, which began with an outdoor summer reading program on the library lawn. Other offerings during the year are a homework and reading lab, kids' crafts, a summer creative writing class, and preschool reading gatherings.
One measure of success is the number of area children participating, from an initial 12-15 to a count of almost 30 kids at a recent event.
The dramatic increase in participating children has created a happy problem for the library. Currently, one section of the octagonal building is dedicated to children's reading material and events. The small area is now at the maximum capacity, and more space is rapidly becoming a necessity.
Toward that end, plans are being made to convert the basement of the library into a new area for children's books and activities. The basement has at least double the space of the current area. After the relocation of the children's area to the basement, the upstairs space will be converted into an adult fiction area and reading room.
Initial plans are being developed to upgrade the infrastructure of the basement with a new ceiling, lighting, heating and a dehumidifier before the children's books and activities are relocated there.
As with all remodeling, the new children's area will require funding to proceed with these ambitious plans. Toward that end, the Atlanta Library will have a fundraiser on Saturday, Feb. 16, called "Bowling for Books."
Bowling for Books will take place at the Red Wing Bowl, just across the railroad tracks from the library. Twenty-four teams of four bowlers each will compete for prizes, with bowling times at 3:30, 6:30 and 9 p.m. In addition to bowling, a Chinese auction will take place for items donated by area businesses.
The prime sponsor for Bowling for Books is Mattingly Automotive, with additional help from Kitty Cat Crafts. So far, response has been very positive, with many teams already signed up.
The library hopes to raise at least $4,000 to begin the basement renovation process.
"The momentum of community involvement in the library is increasing," says Maciariello. "The fundraiser is providing an exciting way for members of the Atlanta community to participate in their library's improvement."
Sign-up forms for Bowling for Books are available at the library and on the library website.
Maciariello sees the library as a magnet for area residents to come together and participate in fascinating events, as well as use the traditional library services.
In addition to the Feb. 16 fundraiser, another important date for the library is rapidly approaching. Randy Brooks, president of the Atlanta Public Library District, announced that a referendum will appear on the April ballot, requesting an increase in the library district's assessment.
The assessment has not been changed in decades.
"We can't do 2013 work at the library with 1950s money," said Brooks.
He stressed that when the assessment was last changed, all the library had to offer was books. Now, in the digital age, libraries are called upon to offer many more services. In addition to checking out physical books, library patrons are requesting access to digital reading material that they can download to their iPads, Kindles and Nooks.
Money from an increased assessment will go directly into updating the services and programs the library can offer its patrons, as well as maintaining and updating the library's physical structure, a historic building that needs lots of care.
Brooks said: "I can't stress enough how important a modern library is to a thriving community like Atlanta, especially with the increase in tourists coming to town for the Route 66 experience. A modern library enriches the community."
Brooks and Maciariello are excited about the future of their town and the Atlanta Public Library, and their enthusiasm is shared by members of the Atlanta community.
For a complete list of the Atlanta Public Library programs and special events such as Bowling for Books, go to the library website or call the library.
[By CURT FOX]
Atlanta Public Library contact information
---

Logan Co. Animal Rescue hosting fundraiser lunch
Logan County Animal Rescue will host a fundraiser lunch on Saturday, Feb. 9, at Friendship Manor.
The midday meal will consist of chicken and noodles, mashed potatoes, green beans, lettuce salad, roll, a drink, and dessert. Serving will begin at 11 a.m. and run through 2 p.m.
The Logan County Animal Rescue is a not-for-profit 501(c)(3) organization that works to preserve the life of animals in need. Animals are taken in on a temporary basis. They may be reclaimed by their owners, or they may have to be taken to a no-kill shelter, hopefully to be adopted.
To purchase tickets in advance for the Feb. 9 fundraiser, or to learn more about Logan County Animal Rescue, call 217-735-2015.
For more information, visit www.logancountyanimalrescue.com.
---

Lincoln woman attains NLAPW membership
Nancy Rollings Saul, of Lincoln, was recently inducted into the Central Illinois Branch of National League of American Pen Women, in the Letters division. Working as a freelance writer and photographer, she has produced numerous postcards of Logan County landmarks.
Saul retired in 2010 after serving more than 22 years as lifestyle editor of The Courier newspaper in Lincoln, where she received numerous awards from the Illinois Press Association and the Associated Press. Prior to her Courier job, she worked as a freelance writer and photographer for numerous central Illinois newspapers.
Earlier in her career, she also wrote for the Publications Division of the Indiana Department of Commerce, the Public Information Office of Sangamon State University (now the University of Illinois in Springfield), the Illinois State Journal-Register, the Springfield Sun and the Mattoon Journal-Gazette. She served as editor for the 50th anniversary edition of The Progressive Miner.
The Central Illinois Branch, NLAPW, meets at 1:30 p.m. on the third Thursday of each month at the Bloomington Public Library. Professional women writers, artists or composers who are interested in visiting a meeting may contact Betty Story, membership chairman, at 309-664-0319 or gl-bstory@comcast.net, or contact Saul at loganilphotos@gmail.com.
The League of American Pen Women was organized in June 1897 by Marian Longfellow O'Donoghue, niece of President William McKinley, in protest of the way women writers were treated by their male counterparts. O'Donoghue, who wrote for newspapers in Washington, D.C., and Boston, invited fellow journalists Margaret Sullivan Burke and Anna Sanborne Hamilton to join her in establishing a "progressive press union" for Washington's female writers.
The group, including writers, a teacher and an artist, banded together to seek mutual aid, advice and career advancement. Professional credentials were required for membership as they are today, and the women determined that Pen Women should always be paid for their work.
Today, the expanded mission of the organization includes mentoring, encouraging and promoting emerging professional women in the arts. In a time when arts in the classroom are being curtailed or eliminated, the national organization also provides outreach programs that give students a chance to discover and explore their artistic gifts.
Additional information about the league is available at www.nlapw.org.
The National League of American Pen Women was founded in 1921 with 35 local branches in various states. The organization is headquartered in the historic Pen Arts Building in the DuPont Circle area of Washington, D.C. First ladies have always been awarded honorary memberships, and in some cases, such as Eleanor Roosevelt, have actively participated in league functions. More than a decade into its second century, league membership has included more than 55,000 professional women writers, artists and musicians.
---

Area Red Cross seeking hero nominations for 8th annual Heroes Breakfast

SPRINGFIELD -- The Illinois Capital Area Chapter of the American Red Cross is seeking hero nominations from the public for the eighth annual Red Cross Heroes Breakfast fundraiser on April 19 at the Crowne Plaza. Presented by the Bank of Springfield, this inspiring event honors a group of everyday local heroes for performing an extraordinary act or giving a lifetime of service to the community.

Proceeds benefit local disaster relief by the Red Cross.

The Red Cross is seeking nominations for nine hero categories that will be honored at this year's breakfast:

, sponsored by St. John's Children's Hospital: A person under 18 who has acted in a heroic fashion during a time of crisis or committed themselves to better their community/the people in it.

Education

, sponsored by Horace Mann: A K-12 or college teacher who has made an extraordinary difference in the life of a child or group of children.

Military hero

, sponsored by Hanson Professional Services: A local member of the U.S. armed forces who has shown dedication to serving our country or made the ultimate sacrifice in defending it.

Public safety hero

, sponsored by the American Red Cross: A person in an emergency service field, such as police, fire department or EMT, who has gone above and beyond the call of duty to save or protect another.

Senior hero

, sponsored by Concordia Village: A person over the age of 62 who has acted in a heroic fashion during a time of crisis or committed themselves to better their community or the people in it.

Community hero

, sponsored by Greene Dodge: Someone who has shown heroism in some unexpected or unusual way during a time of crisis in their community or has shown sacrificial commitment to meeting the needs and challenges of their community.

Workplace hero, sponsored by Express Employment Professionals: Someone who has acted in a heroic fashion during a time of crisis in their workplace or has shown strong commitment to helping others within or through their place of work.

Health care hero

, sponsored by Springfield Clinic: A member of the medical or health care profession who has displayed extraordinary and sacrificial commitment to saving or improving lives or treating illnesses.

Civic hero

, sponsored by Bunn: A person in a paid public service field, such as government, nonprofit or social services, who has gone above and beyond to help or protect someone or worked toward positively affecting their community.

Nominees must either live or work in Sangamon, Christian, Logan, Menard, Macoupin, Montgomery, Sangamon or Shelby County. Local heroic acts must have taken place within the last 18 months to be eligible, unless the nomination is for a lifetime of service. An individual or group of individuals may be nominated and can be entered into multiple hero categories.

People in the community can fill out and submit the online hero nomination form by visiting www.il-redcross.org. Nominations are due by Feb. 22.
---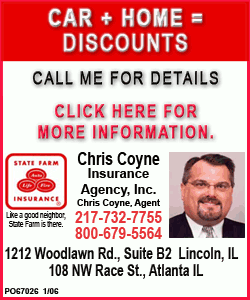 ---

Celebrating Abraham Lincoln's birthday in Mount Pulaski

Brian 'Fox' Ellis to portray William Herndon, Lincoln's law partner

MOUNT PULASKI -- On Saturday, Feb. 9, at 11 a.m., William Herndon, Abraham Lincoln's law partner, will be portrayed in Mount Pulaski by acclaimed storyteller, author and educator Brian "Fox" Ellis, from Peoria. This is a rare opportunity to enjoy a unique look at Abraham Lincoln through the eyes of his law partner.

Everyone is invited to attend this remarkable portrayal in the Mount Pulaski Courthouse courtroom, where Abraham Lincoln, Judge David Davis, Stephen A. Douglas, Leonard Swett, William Herndon and other lawyers who traveled by horse and buggy in the mid-1800s Illinois 8th Judicial Circuit heard cases in the Logan County seat of Mount Pulaski (1848-1855), an Illinois Historic Site since 1936.

Complimentary servings of Mary Todd Lincoln's cake will be provided throughout the day, 10 a.m. to 4 p.m.

In the afternoon from 1 to 3:30, there will be multiple activities for children. Craft supplies will be available for making cards, bookmarks and pictures for Lincoln's Birthday or Valentine's Day. There will also be an Abraham Lincoln scavenger hunt.

The previous day, Feb. 8, two other historic individuals associated with Abraham Lincoln will be portrayed by Ellis at the Mount Pulaski schools. For students of the Mount Pulaski Grade School and Zion Lutheran School, Mr. Ellis will portray Austin Gulihur, one of Lincoln's boyhood friends. Fourth-graders will begin the morning program with a presentation of Lincoln's Gettysburg Address. In the afternoon, for the Mount Pulaski High School, Ellis will portray American poet Walt Whitman, who was a contemporary of Lincoln and wrote poems in praise of him soon after the president's assassination.

The funding for these events has come from the Tomlinson Trust, the Abraham Lincoln Tourism Bureau of Logan County and the Mount Pulaski Courthouse Foundation. Mary Todd Lincoln's cake will be donated by Hilltop Catering of Mount Pulaski.
---

Absentee and early voting for Lincoln Republican primary

Lincoln Daily News received the following notice from Sally J. Litterly, Logan County clerk:

(Copy)

PUBLIC NOTICE

ABSENTEE AND EARLY VOTING
FOR THE LINCOLN CITY CONSOLIDATED REPUBLICAN PRIMARY ELECTION
FEBRUARY 26, 2013

Do you want to avoid lines on Election Day? Registered voters who desire to cast a ballot at the Office of the County Clerk rather than their polling place, may now vote in person in the Office of the County Clerk. The office is located on the 2nd floor of the Logan County Courthouse, 601 Broadway St., Lincoln, Illinois. In person absentee voting continues through February 25, 2013.

Registered voters may also make application by mail to vote absentee. Students and out of county workers can conveniently obtain an Application to Vote Absentee by contacting the Office of the County Clerk, or access the form on the Clerk's website at http://www.co.logan.il.us/county_clerk/. Mail applications will be received by the County Clerk until February 21, 2013. No ballots may be sent by mail after that date as provided by law. No excuse is needed to vote by absentee by mail or in person.

Early Voting (similar to Absentee) will also be conducted in the Office of the County Clerk February 11 through February 23, 2013. Early voting allows registered voters to cast their ballot prior to Election Day by voting at the pre-designated site of the Office of the Logan County Clerk. Early voters must be registered and present a valid picture ID showing their current voter registration address.

Office hours are Monday through Friday 8:30 a.m. – 4:30 p.m.

Any questions concerning voting may be directed to the Office of the County Clerk Elections Department at (217)732-4148.
---

Polar Plungers across Illinois will be freezin' for a reason Feb. 22-March 17

NORMAL -- It's not every day that people are willing to "go jump in a lake" -- particularly in the winter -- let alone do so with thousands of other people, including members of the law enforcement community. But that's exactly what will happen on various weekends in February and March as part of the annual Law Enforcement Torch Run Polar Plunge to benefit Special Olympics Illinois presented by GEICO.

Any adventurous soul is invited to join law enforcement officers, as well as media and business and civic leaders from their community, by donning bathing suits, costumes or any clothing of choice (just no wetsuits!) to jump in a lake. Each plunger must collect a minimum of $75 in donations that will be used to support Special Olympics programs in Illinois.

The event has grown from one location in 1999 to 20 locations across the state this year. The Polar Plunge series will kick off with a Super Plunge -- where participants raise a minimum of $2,500 and plunge into Lake Michigan once every hour for 24 hours -- on Feb. 22-23 at Northwestern University's North Beach in Evanston.

The Logan County plunge will take place on Sunday, March 17, at 2 p.m. at Lincoln Lakes. Please note this is a change in both day of the week and time. Anyone wishing to know more about the local plunge can click on the "Polar Plunge" button on the Top Stories page of LDN or contact Joanie Keyes of Special Olympics Illinois at 217-428-9255.

Individuals and teams can register for the plunge on the Special Olympics Illinois website at http://www.plungeillinois.com/ or by contacting Keyes at the number above.

Plungers are encouraged to form teams to spread the fun. Each team member must raise the minimum of $75 in donations, and all team members' individual fundraising totals will be merged to form a combined team total. Teams are placed into divisions based on size and are awarded prizes for the most money raised.

All plungers will receive gifts, compete for prizes, and enjoy food and camaraderie with other chilly participants. The more money a plunger raises, the more chances he or she will have to win a four-night trip for two adults to Cancun, Mexico, with accommodations at Riu Peninsula, courtesy of Apple Vacations. For every $500 a plunger raises, he or she will get an entry into the drawing for this grand prize.

The Illinois Law Enforcement Torch Run is the single largest year-round fundraising vehicle benefiting Special Olympics Illinois. The annual intrastate relay and its various fundraising projects have two goals: to raise money and increase public awareness for the athletes of Special Olympics Illinois. Each year, more than 3,000 officers in Illinois run more than 1,500 miles carrying the "Flame of Hope" through the streets of their hometowns and deliver it to the State Summer Games in Normal in June.
---

Lincoln Christian Church family event Jan. 26

Lincoln Christian Church will host a free family event on Saturday, Jan. 26, at 3 p.m. featuring an illusionist, Andrew Anderson, from Charleston. Anderson captivates the audience and invites them to participate, all the while teaching the gospel.

The program is for children, their family and friends. Children must be accompanied by an adult.

The event is free to the public and sponsored by the church's family ministry.
---

Harvest will host 10th anniversary Spring for Tea

Plans are well under way for Spring for Tea -- the "premiere event" of the Harvest of Talents for World Hunger at Lincoln Christian Church. So reports Marcia Bidwell, who chairs the event and comments that this marks the 10th anniversary of the much-anticipated spring event of the Harvest Ministry.

Ticket sales will begin on Feb. 1 and the anniversary tea will be on Saturday, April 20, in the Fellowship Center of Lincoln Christian Church. Doors to the event open at 10:45 a.m., and tea will be served at 11:30 a.m.

The tea features a number of elegantly appointed tea tables complete with china, silver, crystal and offering a variety of themes and décor. Women of all ages will serve as hostesses for the tables, attending graciously to the needs of their guests.

The tea menu will feature favorite food selections from previous teas as well as some that are new this year. Background music ambience will be provided by a string quartet. Food and conversation will prevail as guests are served traditional tea fare accompanied by cups of a special hot tea served from a variety of delicate teapots.

As tea guests arrive, they will be greeted and escorted to their tables by the Harvest men in black. Before partaking of tea, the guests will enjoy a promenade of all of the tables as they await the appointed time of serving.

A special 10th anniversary program will be presented following the serving of tea. A number of door prizes, provided by local businesses and individuals, will be awarded.

Tickets are sold in advance in the church office. Bidwell reports that there is limited seating and that the tickets sell out quickly. Tickets may be purchased beginning Feb. 1 by visiting the church office or calling Vera Thomas at 732-7618.

The April tea will be the first 2013 event of the Harvest of Talents Ministry, which this year will be celebrating its 30th anniversary. The Harvest of Talents for World Hunger is a unique ministry of the Lincoln church. Partnering with International Disaster Emergency Service, the annual Lincoln event has raised $1,718,145.23 through the 29th Harvest, every penny of which has gone to feeding programs, orphanages and missions throughout the world, providing physical and spiritual food to those in need.

The 30th annual Harvest of Talents for World Hunger will be on the fourth Saturday in October in the Fellowship Center of Lincoln Christian Church. Anyone seeking information about the event may call the church office at 217-732-7618.
---

Local emergency assistance board to meet Jan. 29

The Logan County Emergency Food and Shelter Program board will have its annual meeting Tuesday, Jan. 29, at 1:30 p.m. at Community Action Partnership of Central Illinois, 1800 Fifth St. in Lincoln. The program is also known as EFSP.

The Emergency Food and Shelter National Board Program was created in 1983 to supplement the work of local social service organizations within the United States, both private and governmental, to help people in need of emergency assistance. This collaborative effort between the private and public sectors has provided over $3.6 billion in federal funds during its 28-year history.

Representatives of agencies in Logan County that are interested in learning more about the program are encouraged to contact Cyndi Campbell, resource specialist at Community Action Partnership, 217-732-2159, ext. 225.
---

Public meeting Jan. 29 to discuss downtown revitalization and redevelopment planning

There will be a public informational meeting on Tuesday, Jan. 29, from 5 to 6:30 p.m., in the Pegram Room of the Lincoln Public Library. The meeting will be an open house format, with a short presentation to be given at 5:30 p.m.

The purpose of the public meeting is to present the preliminary Downtown Redevelopment Plan to residents, local business owners and community leaders. The plan focuses on the downtown business environment, including a land-use plan, and an economic development and business plan.

All residents are encouraged to attend this public informational meeting.

The planning team is also in the process of developing a Downtown Revitalization Plan which makes recommendations on specific physical improvements to downtown Lincoln, including streetscape improvements, a conceptual plan for the public parks and courthouse square, parking and traffic plans, historical façade improvements, and a historical preservation plan.

Information about the Downtown Revitalization Plan will presented at a second public informational meeting at a later date. An announcement regarding the second informational meeting will be provided in the local news media and on the project website: http://explorelogancounty.com/
DowntownLincolnStudy.
---

LAMS rehearsals for spring concert begin Feb. 5

The chorale of the Lincoln Area Music Society will soon begin rehearsals for the spring concert with the orchestra. The first rehearsal will be on Tuesday, Feb. 5, at 7 p.m. at St. John Church of Christ.

The group will be under the direction of Tim Searby and will be accompanied by Kay Dobson.

The combined concert will be at the Lincoln Community High School auditorium on Saturday, April 13, at 7 p.m. and Sunday, April 14, at 2 p.m.

The chorale will do arrangements of show tunes, classical, sacred, patriotic music and a hilarious arrangement about Beethoven.

Everyone from high school on up is welcome to join the chorale.

For more information, contact Tim Searby at tsearby@heritageofcare.com.
---

HSLC board election Jan. 30

A general membership meeting of the Humane Society of Logan County will be on Wednesday, Jan. 30, in the Steinfort Room at Abraham Lincoln Memorial Hospital, 200 Stahlhut Drive.

The annual election for three seats on the board of directors of the Humane Society of Logan County will be at this meeting.

Anyone who is current with their dues and has been a member for at least three months prior to the election may declare their intent to seek election to the board of directors. If you are interested in serving on the board, you may send a letter of intent to the board secretary, Wanda Stevens, at wstevens@ccaonline.com.
---

Atlanta Betterment Fund board introduces 'Rt. 66 Reinterpreted' Art Project

ATLANTA -- In celebration of Route 66 and all it stands for, Atlanta -- located on the Mother Road, midway between Chicago and St. Louis -- announces its first "Rt. 66 Reinterpreted" Art Project.

Modeled on Chicago's "Cows on Parade" exhibit, the Rt. 66 Reinterpreted project presents artists the opportunity to create their own take on one of the 20th century's most iconic and recognizable symbols: the U.S. Route 66 highway shield.

Participating artists will be provided a blank, 2-foot-by-2-foot wooden cutout of the Route 66 sign, painted white, which will then become their personal canvas. The only requirement in creating a reinterpreted shield is to incorporate the text "Illinois U.S. 66" somewhere on the face of the shield, in whatever size, shape or color the artist desires. Everything else about the design, style, background and color of the reinterpreted shield is left to each artist's imagination and creativity.

The project is open to anyone 16 years old and above. Up to 50 entries will be accepted in this year's project, as determined by the date applications are received. All 50 entries will be displayed outside along Route 66 in downtown Atlanta from May 1 to Aug. 31.

The board of directors of the Atlanta Betterment Fund will select 10 shields out of the 50 entries as finalists. Shields selected as finalists will be judged on originality of design, overall concept and quality of execution.

Voting will then take place May 1-Aug. 31 to select the top five shield designs as winners of the 2012 project. Anyone, anywhere may vote, either in person at selected Route 66 attractions in Atlanta or online via Atlanta's website at www.atlantaillinois.org. The top five vote-getters will be the winners of the year's Rt. 66 Reinterpreted project.

At the conclusion of the project, the five winning shields, along with the names of the artists who created them, will be displayed on a permanent basis in the Atlanta Route 66 Park. Entries selected as one of the top five winning designs will also be showcased at the International Mother Road Festival in Springfield Sept. 27-29.

Artists wishing to enter the Rt. 66 Reinterpreted Art Project must submit a completed application form, along with a $25 entry fee. Completed applications are due on or before Feb. 1. Applications received after Feb. 1 will not be accepted.

Completed Rt. 66 Reinterpreted shields should be carefully packaged and returned to: The Atlanta Betterment Fund, 114 SW Arch St., Atlanta, IL 61723. Shields should be submitted between March 1 and April 5. Shields received after April 5 will not be accepted.

The Atlanta Betterment Fund sponsors the Rt. 66 Reinterpreted Art Project.

All decisions regarding judging are final. Entries selected as finalists will be notified by April 30. Entries selected as one of the top five winning designs will be notified by Sept. 1.

Click on the "Route 66 Art Project" logo at www.atlantaillinois.org for more information, including project guidelines and an application form to enter the Rt. 66 Reinterpreted Art Project. Or contact:

William Thomas
Atlanta Betterment Fund
114 SW Arch St.
Atlanta, IL 61723

217-648-5077
---