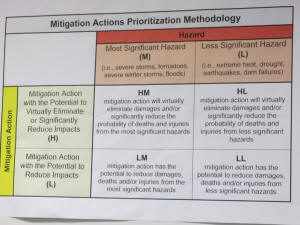 Community representatives think ahead on disaster recovery measures

Send a link to a friend
[January 25, 2013] More than 30 people gathered at the Logan County Public Safety Complex on Jan. 17 for a meeting of the All Hazards Mitigation Planning Committee. The brief meeting provided a quick summary of the steps already taken, with a look toward the future in developing plans for mitigating potential damage from environmental sources.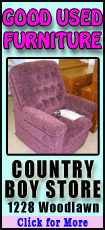 Everyone in attendance was provided a packet of information with a summary of minutes from a previous meeting on Nov. 1, 2012, as well as historical and financial figures on past events that resulted in critical damage in the area.

Terry Storer opened the meeting and thanked everyone for attending. There were representatives from Atlanta, Broadwell, Elkhart, Emden, Hartsburg, Lincoln and Mount Pulaski.

Greg Michaud of Johnson, Depp and Quisenberry spoke to the group. Michaud is working with Logan County as a consultant in creating hazard mitigation plans.
Michaud provided some statistics on previous damage in Logan County:
Since 1950, there have been 59 tornadoes verified in Logan County. The combined damage cost $39 million and resulted in 75 injuries and one death. The average tornado is three miles long and 145 yards wide.

Since 1951, records available show there have been 46 floods, causing at least $3.5 million in damage. While potential damage from stream flooding can be calculated (at least a quarter of a million dollars, depending on location), flash flooding is unpredictable.
Andrea Bostwick collected surveys from individuals present at the November meeting. Those surveys were focused on knowledge of previous hazards in which critical facilities were damaged.
Bostwick also demonstrated a new form that would need to be filled out by representatives of each area. The new form, called a mitigation actions table, would indicate ideas for how to prevent large amounts of damage to critical facilities. As an example, Bostwick used the building of a tornado shelter. The form includes space for items such as funding sources, size of affected population and time frame for completion.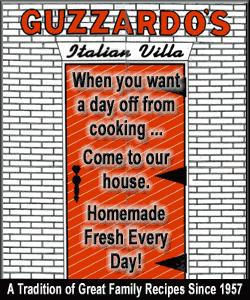 Michaud said that the representatives at the meeting should find ways to work with their communities on developing a potential hazard mitigation action table.
County board member Gene Rohlfs asked about a possible example: What if the airport is damaged in such (an event) as to lose power? Rohlfs also asked if it would be possible to include necessary supplies such as generators in this form.
Michaud replied that it would be a good idea to add details like that to the table.
"We really need the input," added Storer at the end of the meeting, who said it was good to think outside the box on this project.
The new forms will be filled out for the next meeting in the series. A date was set for June 13 at 4 p.m. in the safety complex. Bostwick said that at least one of these forms should be completed for each municipality.
[By DEREK HURLEY]