Merle Rohlfs
[January 26, 2013] HARTSBURG -- Merle E. Rohlfs, 89, of Hartsburg, died Thursday, Jan. 24, 2013, at Mason City Area Nursing Home.
(Below is the obituary from the funeral home.)
___
Merle E. Rohlfs, 89, of Hartsburg, passed away January 24, 2013 at Mason City Area Nursing Home surrounded by his loving family.
Visitation will be Monday, January 28, 2013 from 5-7 PM at Holland Barry & Bennett Funeral Home in Lincoln. Funeral services will be 10 AM Tuesday, January 29, 2013 also at the funeral home. Burial will follow in Hartsburg Union Cemetery.
Merle was born July 29, 1923 in the Hartsburg-Emden area, the son of John H. and Margaret (Menssen) Rohlfs. He married Ruth Jones on October 4, 1945.
He proudly served his country in the United States Air Force, 452nd bombardment group, 731st squadron. He was a waist gunner on a B-17-G flying fortress ("Hell's Cargo") plane and was shot down over Germany on March 6, 1944. He was a prisoner of war for 15 months with 10,000 others and survived the death march.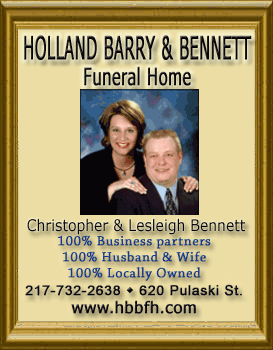 Merle worked as a rural mail carrier in Hartsburg for many years. He was a lifetime member of the Hartsburg, IL. American Legion.
Surviving are his wife Ruth Rohlfs of Hartsburg; 4 children: Debra Lee Beekman (Don) of Emden, Timothy L. Rohlfs (Nancy) of Mackinaw, IL., Markita Rohlfs of Hartsburg, and Brett Rohlfs (Jennifer) of St. Joseph, IL.; 8 grandchildren: Derek Rohlfs, Craig Rohlfs, Brandon Beekman, Blake Beekman, Chynna Farmer, Willow Krumwiede, Nadra Rohlfs, and Jude Rohlfs; 7 great grandchildren; sister Lavera Barry of Hartsburg; brother Kenneth Rohlfs of California; and brother James Rohlfs (Nancy) of California.
He was preceded in death by his parents and three brothers: Alvin Rohlfs, Marvin Rohlfs, and John Jr. Rohlfs.
Memorial donations may be made to the Hartsburg, IL. American Legion and will be accepted at the funeral home.