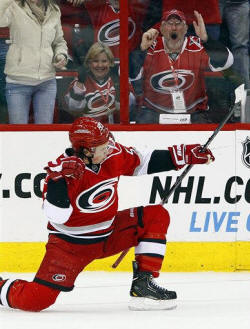 Harrison leads Hurricanes past Sabres 3-1
Send a link to a friend
[January 26, 2013] BUFFALO, N.Y. (AP) -- Jay Harrison scored the go-ahead goal with 4:50 left, helping the Carolina Hurricanes to a 3-1 win over the Buffalo Sabres on Friday night.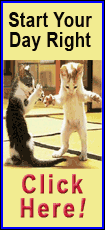 Harrison fired a slap shot from the right point after Eric Staal won the faceoff, and the puck beat Buffalo's Ryan Miller on the short side.
Alexander Semin tied it for the Hurricanes early in the third period, and Jeff Skinner scored an empty-net goal for Carolina, which has won two straight games. Dan Ellis made 40 saves in his first start for the Hurricanes.
Thomas Vanek scored for Buffalo (2-1-0), losers of two in a row. Miller stopped 39 shots in his first loss of the season.
Buffalo's chances to tie the game late were hindered when Vanek was assessed a cross-checking penalty with 2:09 remaining. Despite getting two shots while down a man, they eventually allowed Skinner's empty-net goal.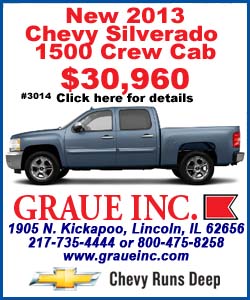 Semin tied it at 1 with his first goal as a Hurricane, connecting on a wrist shot during a power play 3:31 into the third period.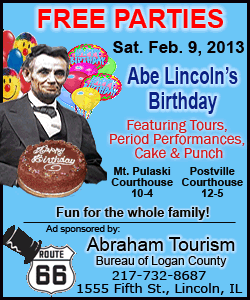 Vanek continued his torrid start to the season, breaking a scoreless deadlock with a power-play goal 1:56 into the third. He snapped a shot from the left circle after picking up the puck near the corner. Vanek has been on the ice for 10 of the 11 goals scored by Buffalo this season and has nine points (three goals, six assists) in the first four games.
Before the third period, the teams battled evenly, with Carolina getting the best chance to take a lead about 6 minutes into the second period. Staal rang a wrist shot off the goalpost and Miller followed with a sharp save on Joni Pitkanen, who one-timed the rebound.
NOTES: Each team went 1 for 4 on the power play. ... Ellis made his second career appearance against Buffalo. The veteran of 167 NHL contests had faced the Sabres for just 25 minutes in a relief performance with Nashville on Feb. 27, 2008. ... Buffalo is the only NHL team with which the Hurricanes have never made a trade. The last transaction between the clubs occurred in October 1989, when the franchise was based in Hartford and Bo Mikael Andersson went to the Whalers in a waiver draft deal.
Copyright 2013 The Associated Press. All rights reserved. This material may not be published, broadcast, rewritten or redistributed.