[January 28, 2013]

Send a link to a friend
The highlight of the evening Saturday night might have been the variety of past presidents who made their way to the stage at the American Legion Hall to share a few memories of the year they served as chamber president.
Those in attendance were Eric Graue, 2012; Donna Boyd, 2011; Deron Powell, 2010; Cindy Stover, 2007; Scott Goodman, 2006; Mark Hughes, 2004; Brian Ash, 2003; Todd Lohman, 2001; Rob Orr, 2000; Mark Kinsel, 1999; Dave Campbell, 1992; Joseph Mintjal, 1977; and Bill Gossett, 1962
Also present and addressing the audience was Bobbie Abbott, who served as the executive director of the chamber from 1998 to 2008.
At the end of the evening a 50-50 was drawn, with the winner getting $175. There was also a drawing for an iPad, which went to Dolan Dalpoas. Then the really big prize was a gold and diamond necklace, donated by MKS Jewelers. In order to have a chance at the necklace, participants bought tickets for $20. When their numbers were drawn, they were given a key to the treasure chest so they could try to open it. The key that unlocked the chest belonged to Donna Boyd.
Pictures by Nila Smith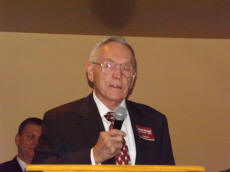 Past president Joseph Mintjal, 1977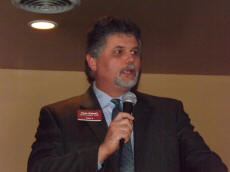 Past president Tom Kinsel, 1999