[January 28, 2013]

Send a link to a friend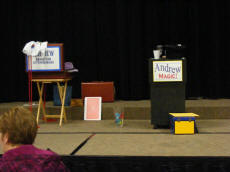 The Amazing Andrew brought his magic show to Lincoln Christian Church Saturday afternoon for a 45-minute show.
A crowd of over 100 kids and their parents cheered as Andrew produced a rabbit from a hat, changed a handkerchief into a dove and amazed everyone with his skilled sleight of hand.
The Amazing Andrew is actually Andrew Anderson from Charleston, Ill. He has been performing magic shows for more than 26 years as a way to testify to his faith. Many of the magic tricks had a biblical lesson associated with them. Anderson is also an application analyst at Eastern Illinois University.
Pictures by Curt Fox