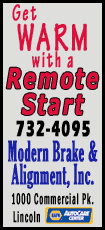 The Loggers prefer a slow-paced, methodical game, forcing the opposition to play defense for the entirety of the 35-second shot clock. The Lynx, on the other hand, typically prefer a high rate of speed, using full-court pressure defense to create havoc and score points in transition.

For the most part, Lincoln College was unable to dictate the tempo of Saturday's contest at Jack Nutt Arena. But, that was OK.

The Lynx beat the Loggers at their own game, prevailing 57-42 by being efficient on offense and dedicated on defense.

Lincoln College coach Pat Lepper was appreciative of the way his team embraced their game plan against the Loggers.
"For some of our guys, because we press and play up-tempo, it's a long year to do that for 30 games straight," said Lepper. "For us to kind of pack it in and be more conservative with how we press, I think our guys were kind of excited about that. … The main thing I was pleased with was that we stayed disciplined the whole game with our defensive idea of staying in a packed defense.
"Offensively, we made sure that we got good shots and did the same thing that they were doing to us. We wanted to run some of their stuff and make them guard us for 30 seconds."
The Lynx made 21 of 38 shots from the field, including 6 of 10 from beyond the 3-point arc. Time and time again, the Lynx would make an extra pass to open teammates, as 13 of their 21 field goals came with assists.
"We just took good shots, and we have guys who can shoot it," said Lepper. "When we take good shots, we're capable of shooting a high percentage. I think we did that tonight. I'm really pleased with them. I know some of them don't think we played our game, but I think we played a well-executed game plan. Guys shared the basketball and everybody did their job."
Lincoln College was led in scoring by Aaron Simpson, who finished with 14 points. Andrew Jordan added 13 points and six rebounds, while JoVaughn Gaines pitched in nine points and five assists for the Lynx.
Friday leads Lady Lynx to OT victory
The story of the women's game was a heroic performance by sophomore forward Ally Friday.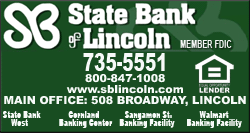 She finished with 21 points, including six crucial points in overtime, to lead the Lady Lynx past Lincoln Land 64-58.
After regulation ended with a 52-52 tie, she hit three free throws in the opening minute of overtime to put Lincoln College ahead.
Friday had an opportunity to add to that lead after stealing the ball from the Lady Loggers on a breakaway. But she was fouled hard as she went up for the lay-in and stayed down for several seconds, holding her head. As she was treated by a trainer on the bench, teammate Jessica Miller shot and made Friday's two free throws.
After getting cleared to return, Friday stepped back into the action and promptly sank a 3-pointer that proved to be an insurmountable 60-54 lead.
For Lady Lynx coach Carol Wilson, it was a memorable moment in Friday's distinguished career. She finished second in the Mid-West Athletic Conference's Freshman of the Year vote last season.
"Ally can take over any game she wants to, when she wants to," said Wilson. "In the first half, she rushed her shots a little bit. But, she's just a gamer.
"I knew when she went down, she wasn't going to stay out. Ally came up big."
It was one of the better wins for the Lady Lynx this season. The Lady Loggers had a 35-22 halftime lead, thanks in large part to the 3-point shooting of guard Hayley Jamerson.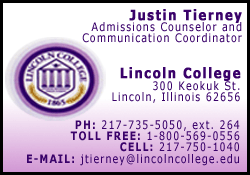 But the Lincoln Land offense began to struggle when Wilson put freshman forward Shannon Hall on Jamerson in the second half.
"We added some speed there with what Shannon is able to do," said Wilson. "We tried to create some havoc for her, or to keep her from at least catching the ball."
The win -- the first of the conference season for the Lady Lynx -- had symbolic value for Wilson, who hoped it would be the start of a streak of victories.
"We still have a lot of work to do. We needed a win," said Wilson. "It feels good to get a conference win and get off the doormat and be up there tied with Lincoln Land. Hopefully we can keep building from here."
Aside from Friday's 21 points, the Lady Lynx benefited from 10 points from Hall and from Erika Spiller, who also had nine rebounds. Cassidy Jennings had nine points for Lincoln College, while Lincoln native Ed Tookes added four points and 11 rebounds.
[By JUSTIN TIERNEY]
Lincoln College men's basketball
Lincoln College women's basketball