When I asked Shanle if he had ever had another job, he answered: "I have had two jobs in my lifetime, and both of them I started on my birthday."
On Nov. 10, 1970, he started his first job out of high school, working as a printer for the state of Illinois at Lincoln Developmental Center.
On Nov. 10, 1974, he began his career with the postal service. Thirty-nine years later, Shanle is well-known for being everybody's "favorite mailman" (just ask him).
As a friend and co-worker of his for the past 13 years, it's been a pleasure to know and work with this man. When I asked him his favorite part of the job and what he would miss about the job, I got the same answer: the people.
"If it wasn't for the people, we wouldn't have a job," he said. "And I will miss the people I work with and the people I have served for 39 years."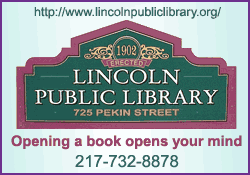 And serving the people of Lincoln is something he has done quite well. Early in his career he carried City 5, which included the Mayfair subdivision. After a while he took his talents uptown, moving to City 8. For years he delivered the courthouse and surrounding downtown businesses, much to the delight of Lincoln business owners.
Over the last several years, you may have seen him pounding the pavement down Broadway every morning as he made his way to Nugent Place, via a little detour through Pekin Street, of course. By the afternoon he was strolling the Tulip-Sycamore neighborhoods, all the while trying to find his way to Pulaski Street. In recent months his route even picked up part of Decatur and Clinton streets. As you can see, the man covered a lot of ground. His retirement is well-earned.

When I asked him of his retirement plans, he was quick to answer: "I'm going to see how many fishing poles I can break and how many shotgun shells I can shoot." He also plans on babysitting Lucy a lot. Lucy, a German shorthair bird dog, is his hunting buddy.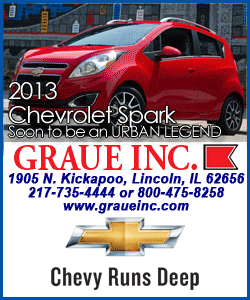 Spending time with family will also be in his plans. Shanle is married to Deb, whom he affectionately calls Myrtle. He has four sons, George, Josh, Jake and Steve Jr., and one daughter, Sara. He is also a proud grandfather to Trevor, Taylor and Owen.
On a final note, at 3 p.m. Thursday, as he punches the time clock for the final time, the man, the myth, the legend who is Steve Shanle will be forever missed by his fellow co-workers and his customers on the mail route. No one can replace this man. He has been a workhorse and on top of his game for 39 years. He is indeed one of the best letter carriers the USPS has ever employed. On behalf of everyone at the Lincoln post office, I wish him the best in his retirement.
[By TEENA LOWERY]

Author's note: I have admired this man for all the years I have worked with him. His work ethic is amazing, and the way he treats others and conducts himself in the workplace is clearly a positive example to those around him. OK, maybe not always, but most of the time! You would have to work at our post office to fully understand what that means. Meanwhile, I do assure the readers that no one can take Shanle's place on City 8, but yours truly might just be the one to try. I know I have big shoes to fill, but I am up for the challenge.