Lincoln Daily News
welcomes letters of appreciation, information and opinion on matters pertaining to the community.
As a community we need to be able to talk openly about matters that affect the quality of our lives. The most effective and least offensive manner to get your point across is to stick to the issue and refrain from commenting on another person's opinion. Letters that deviate from focusing on the issue may be rejected or edited and marked as such.
You may also send your letters by email to ldneditor@lincolndailynews.com
or by U.S. postal mail:
Letters to the Editor
Lincoln Daily News
601 Keokuk St.
Lincoln, IL 62656
Letters must include the writer's name, telephone number, and postal address or email address (we will not publish address or phone number information). Lincoln Daily News reserves the right to edit letters to reduce their size or to correct obvious errors. Lincoln Daily News reserves the right to reject any letter for any reason. Lincoln Daily News will publish as many acceptable letters as space allows.
To the editor:

This week marks the 45th anniversary of the first Special Olympics competition and the beginning of a global movement that now includes more than 4 million adults and children with intellectual disabilities. Illinois takes great pride in being the site of the first Games at Soldier Field (July 20, 1968) and home to some of the early visionaries in the movement, including Justice Anne Burke, who organized that inaugural event.

Special Olympics has transformed the lives of thousands of people in Illinois by giving athletes with intellectual disabilities a platform to discover and develop their talents and to gain recognition and respect. This is only the beginning.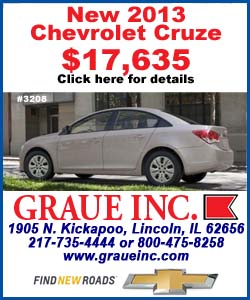 Special Olympics Illinois has a three-year plan to expand its offerings and make the program available to more children and adults in communities throughout the state. Special Olympics is a proven winner in bringing people together in schools, in parks and recreation settings, and in the community at large.
Help us change more lives. Encourage a local school or community organization to start a program. Become an athlete, a volunteer or a donor. Please visit www.soill.org or call 1-800-394-0562. Together, we'll tackle the next 45 years.
Dave Breen
President and CEO
Special Olympics Illinois

[Posted July 20, 2013]