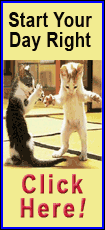 FORMER BOXING GREAT EMILE GRIFFITH DIES
Emile Griffith, an elegant fighter whose career was overshadowed by the fatal beating he gave an opponent in a title bout, dies at age 75.
___
BARCELONA TURN TO GERARDO MARTINO AS COACH
Barcelona pulls a surprise by appointing Argentine Gerardo Martino as new coach to replace the ailing Tito Vilanova.

___
DEVILS SIGN JAGR TO MAKE UP FOR KOVALCHUK EXIT
The New Jersey Devils make up for losing their best player Ilya Kovalchuk by signing one of the NHL's all-time greats Jaromir Jagr.
___