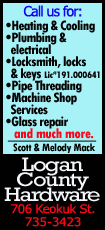 The commission continued their ongoing discussion of revising the Logan County Comprehensive Plan. The commission members had previously completed a survey to determine what they believe the priority should be in planning efforts in Logan County. A majority of the commission members rated economic growth and development as the top priority.

In the last month, zoning officer Will D'Andrea presented the same survey to the Lincoln & Logan County Development Partnership. According to those results, the development partnership also rated economic growth and development to be the highest priority for the commission to pursue in the future.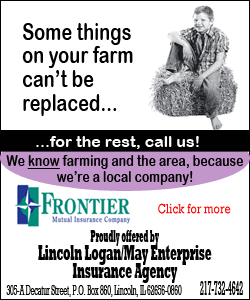 D'Andrea compared the priorities of the two organizations. Within the survey, there were multiple instances of the commission members' results matching those of the development partnership. There were also several instances of priorities being switched by only one rank with very small differences in overall score.
D'Andrea told the planning commission that the Logan County Board members will be taking the same survey in the near future, as will the Lincoln City Council members. Fred Finchum and Bill Martin said they would like to see officials in Atlanta and other communities in the county take the survey as well. D'Andrea will then compile all of the results to provide a wider scope of opinions from government officials.
David Hepler said it may be worth holding on to the survey for those running in future elections to take as part of the campaigning process.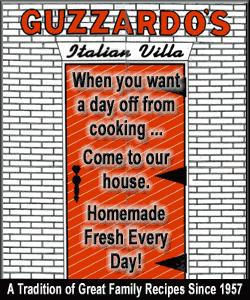 The next item for discussion was the upcoming opportunity to receive a grant through the Illinois Transportation Enhancement Program, or ITEP. Mayor Keith Snyder said the city of Lincoln will vote soon on submitting an application for such a grant this year. Snyder said he would like to see it used to improve the Sangamon and Chicago streets and sidewalks.
Finchum said Atlanta is planning to apply for an ITEP grant. The grant would be used to improve Route 4 in Atlanta.
Finally, D'Andrea reported that he has been informed by the Farnsworth Group that the bicycle trail plan that was recently approved by the planning commission will be incorporated into a larger plan covering the state of Illinois. He said the plan is available for viewing on the county website. D'Andrea also said he has received word that McLean County officials may want to meet with Logan County officials to discuss bicycle trail planning in the future.
There will be no meeting of the planning commission in July. The next meeting will be Aug. 7.
Planning commission members present were chairman Bill Graff, vice chairman Jim Fuhrer, Lincoln Mayor Keith Snyder, Atlanta Mayor Fred Finchum, Bill Martin, Derrick Crane, Blair Hoerbert, David Hepler, Dave Evans and Gerald Lolling. Zoning officer Will D'Andrea was also present.
[By DEREK HURLEY]