CLASSIFIED ADS
---
PUBLISHER'S NOTICE
Federal and state laws prohibit employment advertisements that express a discriminatory preference on the basis of race, age, sex, color, national origin, religion, handicap, or marital status.
Lincoln Daily News will not knowingly accept advertising for employment which is in violation of these laws. Our readers are informed that employment offerings advertised are available on an equal opportunity basis.
---
Home Weekends
Pay base on Experience.
Requirements: 24 years old with two years driving experience,
Clean MVR.
Benefits 1 year vacation after 1 year, 401K, and HRA.
Apply in person at
111 S. Peoria Street
New Holland
or call
217-445-2509

Send a link to a friend
---
Responsible loving person needed to care for and educate our three year old son in our home three to four days a week.
Must be able to pass drug screen and background check.
Serious inquires only.
Pay negotiable depending on experience
Please call or text 217-737-7982

Send a link to a friend
---
in the Bar and Kitchen
Apply in person or call 217-445-2561.
Slackers Bar & Grill
103 W. Lincoln St., New Holland

Send a link to a friend
---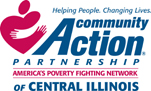 Seeking well qualified
applicants
for positions of
HEAD START DIRECTOR
Community Action Partnership of Central Illinois is searching for a dynamic, motivated leader with exceptional drive to fill HEAD START DIRECTOR position.
This position is responsible for the overall administration of the Head Start program following guidelines established by various regulatory agencies.
Qualifications include: Bachelorís in Human Services or Education, 3 years experience in Early Childhood, 1 year experience in supervision or administration, strong financial-business background, ability to plan for continuous growth and development, excellent oral and written skills.
Interested candidates should send cover letter and resume to:
Ellen Burbage, HR Director
1800 Fifth St.
Lincoln, IL 62656
by March 8, 2013
AA/Equal Opportunity Employer. Minorities encouraged to apply.

Send a link to a friend
---

Fulltime Positions Available
Fulltime Positions for busy distribution warehouse.
Dayshift hours
Candidates must have forklift experience, good work ethics and verifiable references
Send Resumes to:
CPS
PO Box 399
Atlanta, Il 61723
or email alan.guile@cpsagu.com
NO PHONE CALLS PLEASE

Send a link to a friend
---
---