Park district notes
From Roy Logan, program coordinator

Send a link to a friend
[March 07, 2013] Laser tag will be hosted at the Lincoln Park District on Saturday, March 9, for all area junior high students, sixth through eighth grades. Game time will be from 2 to 4 p.m. Players will pay $4 for their first game and $2 for additional games if time allows. In addition to the laser tag, there will be volleyball, a free throw contest and bracelet-making. Pizza, popcorn, cookies, brownies and water will be available for purchase as well. This event is sponsored by Verallia-Saint Gobain Containers and the LCHS National Honor Society.
The Children's Health Fair, co-sponsored by the Lincoln Park District and the Logan County Department of Public Health, will be on Friday, March 22, beginning at 8:45 a.m. This is for all fifth-graders in Logan County and is free to attend. There will be several educational booths, and students will be given the opportunity to experience the Heart Challenge course.

The Community Health Fair will be on Saturday, March 23, from 9 a.m. to 1 p.m. at the park district. Along with health and safety information, there will be a blood drive, entertainment and door prizes. Screenings will be available for blood glucose, body fat, mental health, oxygen levels, blood pressure, cholesterol ($5), oral cancer, skin cancer, blood typing, hemoglobin ($1), pH testing, spine and stress. The public is asked to bring unused cellphones, eyeglasses, medications, printer cartridges, hearing aids, plastic bags and pop tabs for recycling. Among the many other services, look for child fingerprinting, home radon testing kits ($5), a food drive for area food pantries and nitrate screening for well water. Container glass recycling and confidential paper shredding sponsored by State Bank of Lincoln will be from 9 a.m. to noon at the Lincoln Community High School, in the parking lot facing Primm Road.

Hippity-hoppity, it's almost Easter time again. That means it will be time for the park district's annual Easter egg hunt on the driving range if it's a sunny day, or on the Sports Center indoor courts on a rainy day. The hunt is on Saturday, March 30, with the youngest kids, up to 2 years old, beginning at 10 a.m. Ages 3 and 4, 5 and 6, and 7 and 8 are scheduled to run every 10 minutes after that. There will be over 10,000 eggs and lots of great prizes to win. And the Easter Bunny will be there too! The park district thanks Symphony of Lincoln, Lincoln Kiwanis, CITV5 and Thornton 368 for their support. It is because of their sponsorship that this is a free event.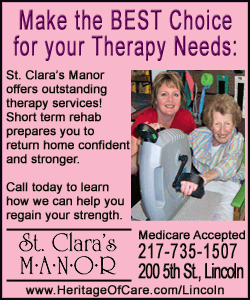 As spring approaches, that means one thing... play ball. Baseball registration is going on now. Boys may be registered at the front desk through April 8. Skills evaluation for boys 9 and older will be on Saturday, April 20, at the Triplex. There will be different evaluation times based on age divisions. Coaches meeting and draft is Tuesday, April 23, at 6 p.m. at the park district. Prices will remain the same.
Softball registration for girls will continue through April 8 at the park district front offices. A date for skills evaluations will be determined and coaches will contact the players prior to the event. Coaches meeting and draft is Tuesday, April 30, at 6 p.m. at the park district. Prices will remain the same for softball players too.
[Text from file received from Roy Logan, Lincoln Park District]