The Knights of Columbus Hall is located at 217 Limit St. in Lincoln. The Fitzpatrick Banquet Hall is available for rental to the general public. It is a spacious hall for all types of events and can accommodate up to 350 people. For smaller gatherings, the meeting room can accommodate 70 guests comfortably. Catering by the K of C is available for events. There is also a full-service bar and lounge open daily to the public.

Members of the Knights of Columbus invite people to celebrate weddings, anniversaries, corporate events, showers, community programs, graduation and private parties at the K of C facility. For many years people have created beautiful memories there.

To inquire about renting the facility or scheduling an appointment, call the K of C at 217-732-2548, Deb Rohrer at 217-737-5418 or email kcbanquet@gmail.com.
---

Atlanta Public Library hosts local city and township candidates
ATLANTA -- The Atlanta Public Library invites the public to attend two public meetings where they can ask questions of candidates running for city and township offices. On March 18, candidates for city council, the library board and the parks board will be available for questions. Township candidates will attend on April 1. Both meetings will be at the North Greens Golf Course from 7 to 8 p.m. The events are free.
On March 18, members of the library board will also be in attendance to answer questions about the library's ballot referendum. Representatives of the rescue squad will attend on April 1 and answer questions about the Logan County Paramedic Association referendum.
While candidates' attendance depends on their availability, the library expects most to participate and encourages the public to take advantage of this important opportunity to learn about candidates' plans for Atlanta in advance of the election on April 9.
Candidates for city offices are Fred Fincham for mayor; Billie Cheek, Matt Clemmons and Bill Moore for city council; Ken Martin for city clerk; and Vickie Martin for city treasurer.
Library board candidates are Randy Brooks, Anne Hieronymus, Karen Horn and Susan Kuhlmyer.
Park board candidates are Doug Thompson and Greg Tucker.
Township candidates are Staci Hieronymus Kong and Jack Renfrow for supervisor; Melanie Blankenship and Julie Tabor for clerk; Daniel Osborn for highway commissioner; and Joe Daugherty, Wesley Green, Alex Hoblit, Julie Osborn, Betty Renfrow and Greg Tucker for trustee.
The public meetings are part of the library's Civic Connections program, which is sponsored by the A-Team.
---

Logan County Community Health Fair coming March 23
The Logan County Community Health Fair continues to promote and educate area residents on the benefits of a healthy lifestyle through screenings, information and programs offered by health and social service organizations at the local, state and regional level. This year's health fair will be on Saturday, March 23, from 9 a.m. to 1 p.m. at the Lincoln Park District Sports Center. All activities, programs and collections will be on-site unless otherwise noted.
The Community Health Fair will offer numerous health screenings, including blood pressure, oral cancer screenings and body mass indexes, which are free to the public. Cholesterol and hemoglobin screenings will be offered at a nominal cost. Well water testing, child fingerprinting will also be offered. The American Red Cross will sponsor a blood drive. Additionally, the health fair will again offer residents the opportunity to recycle a variety of different items in an environmentally friendly and responsible manner.
The State Bank of Lincoln will sponsor shredding of confidential papers and destruction of hard drives as part of the Community Health Fair. The shredding and hard drive destruction program offers residents the opportunity to have items such as financial records, old tax returns and other sensitive household records shredded and destroyed in a secure and confidential manner. Proper disposal of these sensitive items may prevent individuals from becoming victims of identity theft. The paper shredding and hard drive destruction will be available from 9 a.m. to noon in the front parking lot of Lincoln Community High School.
There will also a glass recycling collection in the front parking lot of LCHS from 9 a.m. to noon. The recycling program accepts only container glass, meaning it originally contained either a food or beverage product. Participants will need to remove all plastic and metal caps and rings from the container. All colors of glass are accepted and do not have to be sorted. The glass recycling program does not accept ceramics, dishware, light bulbs, window glass or mirrors. Glass recycling will be canceled in event of inclement weather.
Expired or unwanted medications, both prescription and over-the-counter, will be collected through an unwanted medication collection, co-sponsored by the Healthy Communities Partnership and the Kroger pharmacy. Medications must be in the original container with label and with the name blacked out to ensure privacy. The Lincoln Police Department will be on-site to oversee the collection process. Residents are reminded that it is no longer acceptable to dispose of any medication by flushing it down the toilet, as chemical compounds are now being detected in groundwater samples.
Eyeglasses and hearing aids will be collected by the Lions Club for distribution to visually and hearing impaired individuals in the U.S. and around the world. New, used, damaged or broken eyeglasses and hearing aids will be accepted.
Cellphones, both working and non-working, will be collected for donation to Sojourn Woman's Center. The cellphones will be reprogrammed and provided to victims of domestic violence for their use in emergency situations.
Laser and ink-jet printer cartridges will be collected by Community Action Partnership of Central Illinois. Proceeds from recycling the printer cartridges will be used to supplement ongoing programs for low-income individuals, household, children and seniors.
Tabs from aluminum cans will be collected for donation to the area's Ronald McDonald House.
Containers will be provided at the health fair for the collection of plastic grocery bags.
As always, this year's Logan County Community Health Fair offers something for everyone, whether your goal is maintain or improve your health or to complete some spring cleaning and dispose of items in an environmentally friendly way.
For additional information on health screenings, contact Mallory Ramos of the Logan County Department of Public Health at 735-2317. With recycling questions, contact Mitzi Rohlfs, Logan County Joint Solid Waste Agency coordinator, at 732-9636.
---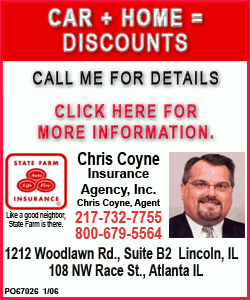 ---

Author seeks 'Neighborhoods' contributions

Although profiles and photos of homes in Lincoln and rural Lincoln continue to be accepted for the book "Neighborhoods, Lincoln, Illinois," the project has entered a new phase.

Information is currently being sought from local building contractors and real estate agents.

Contractors are being asked to submit information on major houses they have built or subdivisions they have developed.

Real estate agents are being asked about homes that they believe should be included in the book. This might include any historical information about a particular home or information about a home currently on the market.

Writer Diane Cherry Osborn may be contacted at diane.osborn@comcast.net or at 217-605-0011. Information may also be mailed to 411 College Ave. in Lincoln or brought to the Logan County Genealogical & Historical Society office at 114 N. Chicago St.
---

'Fish Fry for Missions' March 22

SAN JOSE -- The San Jose United Methodist Women and the men of the church are presenting their annual Fish Fry for Missions on Friday, March 22. Serving will be from 4 until 7 p.m. in the Fellowship Hall.

Whole catfish are fried on the premises during the fish fry. Other items on the menu are hash brown casserole, coleslaw, baked beans, homemade desserts and drinks. Chicken strips are also on the menu for children or adults who do not eat fish.

Proceeds benefit children and youth ministries such as camping scholarships, the Bible Zone after-school ministry and meal, and Vacation Bible School.

Tickets will be sold in advance by church members or at the door. Guests may dine in or carry out for the same price. Tickets are $9 for adults, $4 for children 4-12 and free for children under 4 years with paid adult. For tickets or more information, you may call the church at 309-247-3232 or Jim Eeten at 309-247-3485.

San Jose is on U.S. 136 about 10 miles west of Interstate 155. The San Jose United Methodist Church is at 601 S. First St., at the corner of Linden and First, about six blocks south of U.S. 136.
---

Library prepares for new online system

The Lincoln Public Library District will convert to a new online computer database this spring. The library will join 426 other member libraries in the Illinois Heartland Library System and become a member of the new Polaris online database.

The current library database will no longer be available after March 29, and the new database is expected to become operational on April 9.

Patrons who maintain holds or reading lists in the old database are asked to contact the library by March 15 to have that information transferred to the new database.

For more information, contact April Jensen, circulation manager, at 732-8878 or visit the library at 725 Pekin St.
---

Lincoln Writer's Club will meet March 12

Lincoln Writer's Club will meet Tuesday, March 12, at 6:30 p.m. in the Alumni Room of the Lincoln College student center.

Suggested writing topics: story about Easter; nicknames; to be 13 again; or springtime.

All are welcome. For more information, call 732-2723.
---

Polar Plungers across Illinois will be freezin' for a reason Feb. 22-March 17

NORMAL -- It's not every day that people are willing to "go jump in a lake" -- particularly in the winter -- let alone do so with thousands of other people, including members of the law enforcement community. But that's exactly what will happen on various weekends in February and March as part of the annual Law Enforcement Torch Run Polar Plunge to benefit Special Olympics Illinois presented by GEICO.

Any adventurous soul is invited to join law enforcement officers, as well as media and business and civic leaders from their community, by donning bathing suits, costumes or any clothing of choice (just no wetsuits!) to jump in a lake. Each plunger must collect a minimum of $75 in donations that will be used to support Special Olympics programs in Illinois.

The event has grown from one location in 1999 to 20 locations across the state this year. The Polar Plunge series will kick off with a Super Plunge -- where participants raise a minimum of $2,500 and plunge into Lake Michigan once every hour for 24 hours -- on Feb. 22-23 at Northwestern University's North Beach in Evanston.

The Logan County plunge will take place on Sunday, March 17, at 2 p.m. at Lincoln Lakes. Please note this is a change in both day of the week and time. Anyone wishing to know more about the local plunge can click on the "Polar Plunge" button on the Top Stories page of LDN or contact Joanie Keyes of Special Olympics Illinois at 217-428-9255.

Individuals and teams can register for the plunge on the Special Olympics Illinois website at http://www.plungeillinois.com/ or by contacting Keyes at the number above.

Plungers are encouraged to form teams to spread the fun. Each team member must raise the minimum of $75 in donations, and all team members' individual fundraising totals will be merged to form a combined team total. Teams are placed into divisions based on size and are awarded prizes for the most money raised.

All plungers will receive gifts, compete for prizes, and enjoy food and camaraderie with other chilly participants. The more money a plunger raises, the more chances he or she will have to win a four-night trip for two adults to Cancun, Mexico, with accommodations at Riu Peninsula, courtesy of Apple Vacations. For every $500 a plunger raises, he or she will get an entry into the drawing for this grand prize.

The Illinois Law Enforcement Torch Run is the single largest year-round fundraising vehicle benefiting Special Olympics Illinois. The annual intrastate relay and its various fundraising projects have two goals: to raise money and increase public awareness for the athletes of Special Olympics Illinois. Each year, more than 3,000 officers in Illinois run more than 1,500 miles carrying the "Flame of Hope" through the streets of their hometowns and deliver it to the State Summer Games in Normal in June.
---