Atlanta Public Library hosts local city and township candidates

Send a link to a friend
[March 12, 2013] ATLANTA -- The Atlanta Public Library invites the public to attend two public meetings where they can ask questions of candidates running for city and township offices. On March 18, candidates for city council, the library board and the parks board will be available for questions. Township candidates will attend on April 1. Both meetings will be at the North Greens Golf Course from 7 to 8 p.m. The events are free.
On March 18, members of the library board will also be in attendance to answer questions about the library's ballot referendum. Representatives of the rescue squad will attend on April 1 and answer questions about the Logan County Paramedic Association referendum.

While candidates' attendance depends on their availability, the library expects most to participate and encourages the public to take advantage of this important opportunity to learn about candidates' plans for Atlanta in advance of the election on April 9.

Candidates for city offices are Fred Fincham for mayor; Billie Cheek, Matt Clemmons and Bill Moore for city council; Ken Martin for city clerk; and Vickie Martin for city treasurer.

Library board candidates are Randy Brooks, Anne Hieronymus, Karen Horn and Susan Kuhlmyer.

Park board candidates are Doug Thompson and Greg Tucker.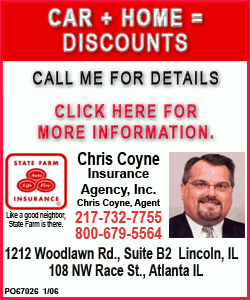 Township candidates are Staci Hieronymus Kong and Jack Renfrow for supervisor; Melanie Blankenship and Julie Tabor for clerk; Daniel Osborn for highway commissioner; and Joe Daugherty, Wesley Green, Alex Hoblit, Julie Osborn, Betty Renfrow and Greg Tucker for trustee.
The public meetings are part of the library's Civic Connections program, which is sponsored by the A-Team.