Dani Phillips prepares to bid on an item she just has to have, while her dad, Greg, watches the action.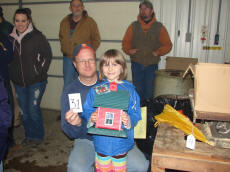 Dani Phillips with her win, a bird feeder, with a little help from her dad, Greg. She
did the bidding and was tickled that she won. Several others were bidding on the bird feeder. The auctioneers were looking at her for her next bid, not her dad. You go, girl!