---
For Sale
Large Entertainment Center

Click on image for larger version
This entertainment center provides ample storage for all your viewing needs, including two solid-door cabinets with adjustable shelving. Above the space for the TV there is a large open shelf for a Blu-Ray or DVD player and/or gaming system. Both the left and right side shelves are adjustable and provide even more storage and decor space. It also has knockouts in the back for easy cable management.
It is in great shape with few minor signs of wear.
Interested parties may contact Jessie at 678-467-8870
---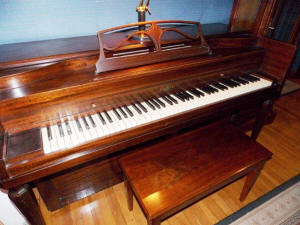 Lovely Cable piano
$660.00
Other items for sale
2 large breed dog crates: one plastic, one collapsible wire frame with metal base tray. $70 each.
Call 732-7443

Send a link to a friend
---
Tons of good used furniture arriving daily!
Hurry while selection is good!
Dolls, toys and games, tractors and trucks, sewing machines, blankets and comforters, electric fireplace, tools, caps, yard ornaments, food dehydrators, large display of cute knick knacks, collectibles like: Elvis, the Beatles, NASCAR, Pillsbury Dough Boy, Precious Moments, Revere Ware cookware, Coke, John Deere, Harley Davidson, metal signs and more. There's something for everyone this Christmas! Stop in today.
Country Boys Store
1228 Woodlawn Road
Lincoln IL 62656
Send a link to a friend
---
For sale: Used washers, dryers and ranges. Six-month warranty. McEntire Appliance, 403 Broadway, Lincoln, 732-4874.

Send a link to a friend
---
---