Last week a special meeting was called to discuss the potential loss of revenues that currently support the bureau. The bureau was established by the county and operates from a portion of a 5 percent hotel-motel tax. The bureau receives the equivalent of a 4 percent tax.

By state law, the municipality has first dibs on that tax, which is tagged for the promotion of tourism.

The city of Lincoln could possibly take over the hotel-motel taxes that are generated in Lincoln. While preparing for a new fiscal year that begins May 1, city officials have put the figures into the city budget. But, the matter had not been taken to the council as of the time of the tourism bureau's March 26 meeting.

At last week's special session, there was no known date if or when the change might happen. However, Geoff Ladd, the bureauís executive director, put the brakes on several long-term, time-sensitive commitments that involve big dollars for advertising and some other plans. The bureau was also approaching its annual grant application and renewal as a tourist entity with the state of Illinois. Ladd said he had never had to shut down an agency and wasn't sure what steps might need to be taken nor the timing. He also didn't want to commit funds that the city might choose otherwise for their use.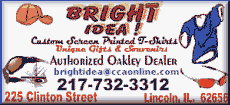 This week the new city of Lincoln administrator, Sue McLaughlin, was in attendance and said that the date would definitely not be May 1. The city could not be prepared by that time with what paperwork and legal steps would be required.
McLaughlin also said that Alderman Tom O'Donohue sent his apologies that he could not be in attendance as city liaison. He was in a meeting that ran over.
At the opening of normal business, the board was presented with a demonstration of how technology devices will soon be enhancing the visitor experience in Logan County. More and more people are carrying mobile devices such as smartphones, iPads and tablets that can scan or enter numbers and connect through the Web to valuable information. Preparations are under way to add bar codes with numbers to visitor sites.
"Explore Logan County" creator David Doolin introduced the project at last year's bureau breakfast. Doolin has developed a website that is now active and offers basic site and community information, but holds the potential for much more.
According to Doolin, using the Web and today's mobile technology devices, Logan County can draw more visitors into its communities and give them a fuller, more satisfying tourist experience. This technology is used in other areas and working well.
The system would track visitor interests and help lead to a better understanding of the reason each visitor is here. By offering information such as other nearby attractions, places to eat and events going on locally, it would also help the visitor find other interests here. It can even provide a low-cost audio narration.
"Engaged visitors translates into tourism dollars," Doolin said.
Doolin has been working with Ladd to use traditional methods to engage with the online world. Currently printed materials used as base level of information would be enhanced by adding the website address, which would extend information: where to stay, what to see, where to eat, what is currently going on and more.
Doolin cited an example of visitors coming to one of the sports tournaments and looking for places to go while here.
Each attraction can have a bar code that provides a direct link into the display. The code brings up other nearby attractions, events and valuable information for the visitor.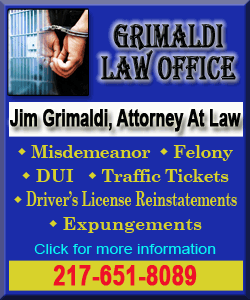 The information options would be up to the bureau to help decide. He didn't think it needed to be limited to just tourist-type information. Often visitors would like to pick up more of the local flavor than just a historic site.
His suggestions included:
Attractions: more than historic sites, architecture, local points of interest, museums, outdoor sculpture, murals

Food and dining

Shopping accommodations

Parks and recreation

Events and festivals
Peggy Lee, one of the tourism bureau directors, said that Doolin has been working with Elkhart in developing connections for their community. She explained as Doolin demonstrated via PowerPoint all the information on Elkhart's upcoming spring activities on the Explore Logan County website.
Since Midwest Living magazine came out last week with Elkhart featured in its the latest edition, Doolin has tracked over 400 interest hits on the Elkhart information.
Doolin is also working on a mascot character. Scout, the adventurer is still under development, but incorporates elements of Abraham Lincoln and Route 66.
One thing Doolin would like to see yet, is a unified resource to point visitors toward to start their journey.
The business portion of the meeting proceeded as normal with a review of upcoming events, advertising and promotional opportunities for the county as a whole.
Still on hold:
The bureau directors were excited about recent news that three Logan County groups received grants. The Logan County Looking for Lincoln, Lincoln Heritage Museum of Lincoln College and the Mount Pulaski Courthouse Foundation received $1,500 each for projects that help promote tourism in Logan County. The funding is from the Looking for Lincoln Heritage Coalition/Abraham Lincoln National Heritage Area 2012 Partnership Grant program.
The directors also discussed and decided on advertising in a couple of magazines and television. It was believed that placement in Chicago Life Magazine reaches affluent readers of the Wall Street Journal. Ron Keller commented that the Heritage Museum is seeing more international visitors who make their start in Chicago. "The sooner we can get our name in front of them, the better," he said.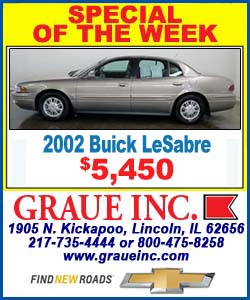 Other ads decided on were to go in campaigns focused on travel and included for TV in the Springfield market and a "Getaway guide" for readers reaching nearby Bloomington, Mattoon and Decatur territories.
Ladd reported that he had received notice of final approval of a state attraction sign to go on Interstate 55 at Exit 126. It is an achievement, in that it will be the first in the state using the new Looking for Lincoln image.
He also reported that he recently attended the Governor's Conference on Tourism and that it was the best ever. He'll have a report next month.
Other board members attended a couple of other conferences. Barbara Stroud-Borth attended Rural Partnership and Nancy Saul attended a conference on social media, which ties into what is now in development with the Explore Logan County.
Ladd said that when it comes to technology advancements and tourism, it's always changing, growing and now massive. The bureau will have a place on LinkedIn, Pinterest, 4squared and others, and a Twitter feed to tourism is in the works.
Since Paul Gleason had resigned as chairman following last week's special session, Stacie Wachtel opened the meeting as vice chairman. In the first order of business, Wachtel was made chairman and Peggy Lee of Elkhart accepted the vice chairmanship.
In lighter moments, Ladd said he enjoyed saying "Madam chairman" while sitting beside Wachtel as she facilitated the meeting.
The meeting at the Holiday Inn began at 4:30 p.m. and went into executive session for further discussion just after 6 p.m.
[LDN]
Past related articles