Left to right: Blake Hermes, Zack Prather and Ethan Goodey, IESA State Chess Tournament finalists.

Zion Lutheran students win IESA state chess awards

Send a link to a friend

[March 29, 2013] Seven students from Zion Lutheran School in Lincoln participated in the Illinois Elementary School Association State Chess Tournament last weekend on the campus of Illinois State University. They were Zack Prather, Joel Robison, Nathan Ford, Blake Hermes, Carter Robison, Elijah Burton and Ethan Goodey.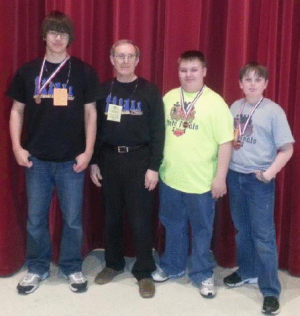 Zion Lutheran School chess team members, from left, Zack Prather, coach Virgil Lowe, Ethan Goodey and Blake Hermes are shown with their medals won at the IESA State Chess Tournament.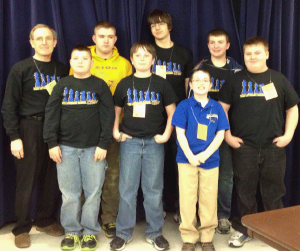 Zion Lutheran School chess team: (front, left to right) Carter Robison, Blake Hermes and Elijah Burton; (back, left to right) coach Virgil Lowe, Joel Robison, Zack Prather, Nathan Ford and Ethan Goodey.
Zack Prather won fifth place out of 24 participants in the eighth-grade Board 3 competition. Blake Hermes won fifth place out of 33 participants in the seventh-grade Board 4 level. Ethan Goodey won fourth place out of 81 participants in the seventh-grade Board 5 competition. Zack, Blake and Ethan were each awarded IESA medals for their accomplishments.

Virgil Lowe coaches the ZLS chess team. For tournament results and more information, see http://www.iesa.org/activities/chs/.

[Text from file received from Zion Lutheran School, Lincoln]