Whether they were Army, Navy, Air Force or Marine, our nation's soldiers, regardless of rank, are the foundation of our freedom. The Honor Flight program gives these men and women the opportunity to feel appreciated and respected for all they witnessed, experienced and sacrificed for this country.

Among the members of the group for this trip was Lincolnite Ivan Ray. Ray was asked to record the experience from his point of view and share it with local media.

Below is his account of the trip.

___

(Copy)

What a fantastic tribute to all the men and women that were asked to serve or volunteered to serve to protect our Homeland and all of our Freedom. There were 88 on our flight; 24 World War II and 64 Korean War era; invited to go to Washington D.C. to visit the memorials of our country's various conflicts.
We left Abraham Lincoln's Capitol Airport at 6:15am CST and arrived at Reagan Memorial Airport at 9:00am CST. We then boarded buses to travel to the WWII Memorial for a group photo and flag ceremony. At the ceremony I asked for a prayer by name for Walter Ray, my third cousin. He was a pilot who died in a jet crash. He was a member of my graduating class of 1951 at Havana Community High School. Maroon and White. Fight! Fight!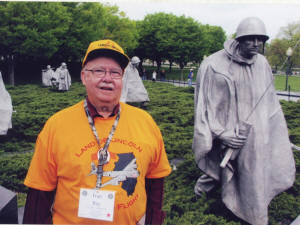 We proceeded to the Korean Memorial which commemorates the era when I served as a lieutenant in the artillery as a forward observer to call in artillery support for the infantry up front in the battles. I held my copy of the Democrat by the stainless steel statues of a forward observer. For being such a tall statue (7' 4"), it looked quite real! Next were the Vietnam and Lincoln Memorials. I took the Courier with me to hold up for a picture. It was time to have lunch, furnished by Subway Sandwich. Our breakfast had been provided by Burger King. We then went on to visit the Air and Space Museum at the Dulles Airport. We ate our lunch on this 45 minute ride.
We traveled back to visit Iwo Jima (the movie Sons of Iwo Jima with John Wayne), the raising of the flag on the hill. There were 7000 killed in that battle. There were five Marines and one medic raising the flag; however, there was one extra hand on the flag pole. They said it was the Hand of God. After that it was time to proceed to visit the Air Force Memorial. The memorial was so tall that it was difficult to photograph.
While I was stationed in Augsburg, Germany with the 5th Infantry Division, I was executive officer of the division's artillery. In November of 1955 I was assigned a mission by General Soleman to select 45 men of my own choosing to go to Fort Ord, California to set up our new headquarters. The buildings were there, I just had to select the buildings to accommodate 2500 men. As executive officer, that position was for the rank of a major, which I was until I had finished my service commitment in May of 1956. I had had a total service time of 8 years and 8 months, in both active and reserve.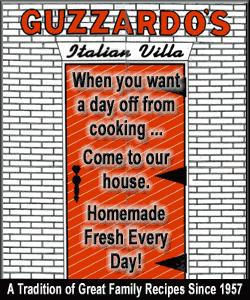 We then made our way to the Tomb of the Unknown Soldier and the changing of the guard in silence. The inscription on the tomb read, "Here rests in honor and glory an American Soldier, unknown but to God." We then could visit and view Arlington Cemetery where many, many thousands are buried. They are still burying about 6,800 soldiers there every year. Audie Murphy's tomb was decorated. He was the most decorated soldier of World War II. He had achieved the rank of Major from a Battle Field Commission. After his service time, he went to Hollywood and made several movies. One of the battles he was in during the war was made into a movie-To Hell and Back-in which he played himself.
Now it was 6:00pm and time to return to the airport to enjoy our Arby's dinner while we waited for departure at 8:10 to arrive in Springfield at 9:30pm CST. On the flight home we had mail call with cards and letters thanking us for the sacrifice of our time away from home, family, and friends. It was a very emotional day. When we arrived at the airport there were hundreds of friends, family, flags, and bagpipes welcoming us home. Emotions really took over.
Thank God for the Honor Flight program. This was no cost to the veterans. We were all assigned a Guardian to make sure we saw everything we wanted to see. My guardian was Tom Harris Jr. He had also been a Guardian for his father, a World War II pilot in a P-38. All the Guardians were fabulous; however, Tom Harris Jr. was fantastic. He really went the extra mile.
Wheel chairs were provided by Abraham Lincoln Memorial and Memorial Medical Center. We took them with us to Washington D.C. and returned them when the flight was over.
If any individual, company, or corporation is in a financial position to contribute to the Honor Flight program, please do so in God's name for other veterans and for those who made the ultimate sacrifice.
To: Land of Lincoln Honor Flight, Inc.
10912 St. Francis Lane
St. Ann, MO 63074
Attn: Ray Wiedle
Those going from Lincoln were Gerald Carter, Tom Harris Sr., James Franklin, and Richard "Ivan" Ray. Alan Pegram was also supposed to participate, but he got sick at the last minute and was not able to make this flight.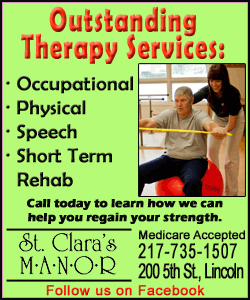 This article is not about me. I was asked to do an article and take a lot of pictures to document this amazing flight. I hope I have done this 18th Flight justice. I sincerely hope the Flights can continue as long as they receive funding from many generous people. All veterans deserve to go and see all the memorials commemorating all the conflicts our nation has been involved in to preserve our Freedom that we continue to enjoy in God's name for our great country.
[LDN with copy of text from Ivan Ray]