Great American Smokeout
Do it today, do it for 1 day — it could become a habit

Send a link to a friend
[November 21, 2013] SPRINGFIELD — Make a commitment to quit smoking on Thursday as part of the Great American Smokeout. This is a day when smokers across the nation quit smoking or make a plan to quit.
"Smoking is the number one cause of preventable death in the U.S.," said Illinois Department of Public Health Director LaMar Hasbrouck. "By quitting smoking, you lower your risk for lung cancer and other types of cancer, heart disease, stroke, and chronic obstructive pulmonary disease. If you can quit for just one day, you may find you can quit for one week, one month, one year, and before you know it, not smoking is your new healthy habit."

Smoking is responsible for nearly 1 in 3 cancer deaths, and 1 in 5 deaths from all causes. Another 8.6 million people live with serious illnesses caused by smoking.

Within 20 minutes of the last cigarette, a person's blood pressure and pulse rate drop to normal, and body temperature in hands and feet increases. Within nine hours of the last cigarette, the carbon monoxide level in the blood drops to normal and the oxygen level increases to normal. After going just one day without smoking, a person's chance of a heart attack decreases.
Quitting tobacco use is hard, but people don't have to do it alone. The Illinois Tobacco Quitline, 1-866-QUIT-YES (1-866-784-8937), has counselors to provide expert advice, addiction assessment, customized quit plans, quit kits, craving support and follow-up. The Quitline is available anytime between 7 a.m. and 11 p.m. seven days a week, or visit the website www.quityes.org for help. Also find the Quitline on Facebook and on Twitter.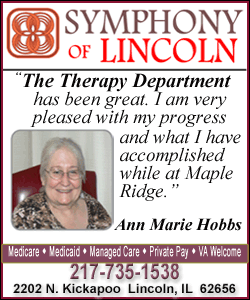 The Quitline is funded through the Illinois Department of Public Health. Alerting the public of this helpful resource aligns the Illinois Department of Public Health with its strategic plan to become the state's public health authority, a place where Illinoisans can turn for health information and education. For a copy of the strategic plan, go to http://www.idph.state.il.us/about/
StrategicPlan_Final_2014-2018.pdf.
[Text from Illinois Department of Public Health file received from the Illinois Office of Communication and Information]