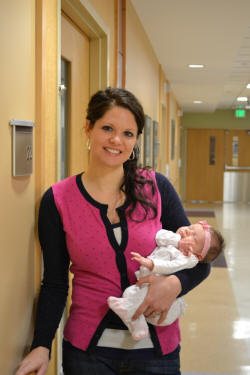 Local convenience, friendly hospital staff important to new mom

Send a link to a friend
[November 22, 2013] When Ally Leesman's first baby was born last month, she was glad that she decided to deliver her baby at the local hospital.
Leesman, 28, who lives in Hartsburg with her husband, Kent, made her first trip to Abraham Lincoln Memorial Hospital in Lincoln on the morning of Oct. 8.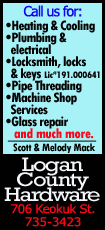 "I wasn't registering any contractions so they sent me home," Leesman said.
By late afternoon, her labor had progressed and she made a return trip to the hospital. The staff decided it was time to admit her. At 10:20 p.m., her daughter, Avia, was born, measuring 20 inches long and weighing 7 pounds and 1 ounce.
The two trips reinforced her decision to stay local with a hospital that's only a quarter-hour drive from her home. Her family doctor, Dr. Thomas Zwilling with Memorial Physician Services – Lincoln, is also close to home.
"It's just so much easier and convenient to schedule appointments when you have a local doctor and go to the local hospital," Leesman said. "You don't have to worry about taking a long time off work to travel to Springfield."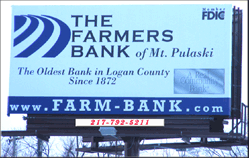 An average of 215 babies are born each year at Abraham Lincoln Memorial Hospital. The nonprofit hospital, which has been serving the community since 1902, offers private, individualized obstetric care.
Other women's health services available include inpatient and outpatient gynecological care, digital mammography, breast biopsies, and obstetrical ultrasound.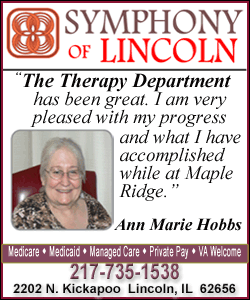 "We are proud of the care we provide to mothers and their babies at the ALMH Family Maternity Suites," said Elizabeth Meyrick, obstetrics manager. "Giving birth at ALMH means high-quality care in a state-of-the-art facility, but it also means being near friends and family. At ALMH, we provide an individualized experience and are available to moms even after they get home, so they have the support they need."
Leesman said her experience at Abraham Lincoln Memorial Hospital was positive, with a friendly staff, including the nurses, who made the time to introduce themselves, were professional and made themselves available to meet any needs that the new mom and baby had during and after their stay.
"Staying local was the right choice for us and proved to be a great experience," said Leesman.
[Text from file received from Abraham Lincoln Memorial Hospital]