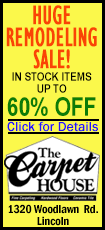 Of the 15 players on the team, 12 of the players were on the roster at the end of last season, a squad that finished 28-5, losing in heartbreaking and controversial fashion in overtime to Glenwood in a sectional semifinal. However, that is all in the rearview mirror, and the latest version of the Railers begin the 2013-2014 campaign Monday (tonight) on the first night of the Eaton Corporation Tournament at Roy S. Anderson Gymnasium.

This Lincoln team returns over 80 percent of its scoring, 3-pointers, rebounds and assists. The only piece from last year's team puzzle not returning is Will Podbelsek, the graduated "dictionary definition of hustle." His leadership, intensity and knack for hitting that much-needed big shot will have to be replaced, but a roster featuring six seniors and lots of depth will have plenty to draw from to fill that void.

The top three scorers from last year – Max Cook (11.5), Edward Bowlby (9.4) and Gavin Block (9.0) – return, leading a veteran squad into a season that many hope will eclipse the finish from last season. All three are capable of having "one of those nights," something that will make it difficult for opponents to focus on one or the other.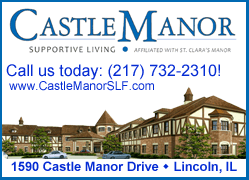 The more the ball is in Cook's hands, the better things usually run for the Railers. It is no wonder Cook is drawing interest in his basketball skills after his high school career is done. He led the team last season in scoring and assists, was second in rebounds, and hit over 42 percent from 3-point range. A good season could see him draw close to, if not reach, the plateau of 1,000 career points. However, Cook, like the rest of his teammates, does not project the air of "what's in it for me." This is a team game, and the win trumps personal accomplishments. Glad to say that Cook is on this team. If you let him set up and shoot, he can go on a roll from either inside or outside. Let him distribute and he will find the open teammate. On many nights, as Cook goes, so the Railers go.
Block is certainly continuing to improve. With all the things he's done on the court, it is hard to believe this is only his junior season. The leading rebounder on last year's team also had a team high in steals and was second in assists. He also carries no fear of stepping in to take a charge. Block is becoming one of those players that teams have to account for in their game plan. If he delivers on his potential, great things are ahead for him and this team.
In my opinion – which, thanks to the readers of Lincoln Daily News, I get to share with you again this season – the most unassuming, yet calming influence may be Bowlby. The senior has proven time and again the ability to hit a critical shot. I think opponents look at Bowlby and do not see him as an outside threat, but Railer Nation knows what he is capable of when he steps behind the 3-point line. Third on the team in rebounds, he seems to have the ball find him at just the right time. If throughout the season a big shot is needed, you should feel pretty good if it's Bowlby taking that shot. Like Block, Bowlby is also not afraid of taking a charge or doing what is needed defensively.
Going into the 2012-2013 season, the aforementioned three were about the only known commodities for the Railers. As the year progressed, however, others proved their value and worth. Tyler Horchem (7.5) returns as a dangerous 3-point threat. Who can forget the six first-half 3s he sank against Urbana on the second day of the Schnucks Holiday Classic in Collinsville?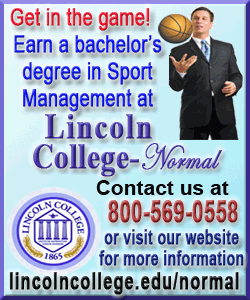 We can all hope for an injury-free season for Joey Olden. The senior missed 14 games last season with a broken arm suffered in the third game. Olden (3.1) may not be expected to provide much of an offensive punch, which he can contribute as needed, but it is on the defensive end where the senior makes his mark. Ask other teams about the nightmares he has caused with his pressure.
A winning team usually needs some toughness. On this squad, the leader in that category is Austin Krusz. Fresh off his season as quarterback for the football Railers, Krusz will do all the dirty work, whether it is diving on the floor, grabbing rebounds or setting the needed screen. You don't expect much scoring from the senior, but any coaching staff will tell you that without a player like Krusz, you won't be as successful as you hope.
The Railers will have a presence down low this season in 6-foot-7 Adam Conrady. The junior played in only 14 games last year, but he will definitely be counted on to produce offensively and defensively on a more full-time basis. He may not be seen as much of a scoring threat, but size alone will make him critical to what the Railers want to do on each end of the court. His overall play may be the key to how far this team can go.
Coach Neil Alexander is entering his 24th season at the helm for the Railers, and he has a good problem to have. Along with the players already mentioned, Lincoln can expect contributions from senior Bobby Dunovsky; juniors Will Cook, Payton Ebelherr and Jordan Perry; and sophomore Aron Hopp. All contributed at times last season, and that experience, along with their competitive nature, will force Alexander to find the right balance for playing time for everyone. The depth should be a positive, as there was too much reliance on the starters for scoring last year, with 90 percent of the points coming from the starting quintet.
The new additions to the roster this season are sophomores Garrett Aeilts and KJ Fry and freshman Bryson Kirby.
Yes, the majority of the players on this year's team experienced the 28-5 season last year, but do you realize how different that record could have been? Lincoln lost those five games by a total of 19 points, with three of those games in overtime. With a total of seven games that went into overtime, including three of their last five games, if it gets close this year, the Railers have been there before and should know how to handle it. Keeping it close was a specialty of the Railers, as in only three games did the team fall behind by more than 10 points. By the way, they came back to win two of those contests.
The 28 wins last year mark the 10th time in head coach Alexander's Lincoln tenure that his squads have hit 25 or more wins. Those wins have helped "Coach Al" to his 685 career wins, putting him just 15 from 700, a milestone he should easily reach, hopefully by midseason. How long has he been at Lincoln? When he takes the bench tonight, he will coach in his 700th game at Lincoln (526-173). This could be a special season for the Railers, but don't worry about the team looking too far ahead. Alexander and his coaching staff will make sure the players focus on one game at a time.
The season that begins Monday night is also a little bittersweet as it relates to the Central State Eight. This will be the final year Taylorville is in the conference, leaving for the Apollo next year. Next season, Decatur Eisenhower and Decatur MacArthur will join the league. No word on if there will be any name change, but based on college math, the Big 10 and Big 12 haven't matched those numbers of teams for a while.
So, back to tonight, as the Railers tip off the season against Champaign Centennial at 8 o'clock. The Chargers will bring with them University of Illinois recruit Michael Finke, a member of last year's Eaton all-tournament team. Last year, the Railers knocked off Centennial 53-48, with Podbelsek scoring 15 and Bowlby adding 13 in a game when the Railers never trailed. Finke joins Max Cook, Cahokia's Darius Austin and Carleton Rivers, along with Danville's Denzel Smith as returners from the all-tourney team.
There are many reasons why the experts, whoever they may be, consider this tournament one of the toughest Thanksgiving tournaments in the state. For the last 11 straight seasons, at least one team that has participated in the Lincoln tournament has advanced to qualify for the state tournament (Elite Eight or better). Add to that, in six of the last seven seasons, the team that has won the Lincoln tournament has been a team that has qualified for state. It may not be a guarantee, but if your team can win this tournament, it is a good measuring stick that you might have a special team on your hands.
Hope to see you at the game tonight, but if not, you can read about it here on Lincoln Daily News. I want to thank the kind folks at LDN for giving me this forum to give you my thoughts and views of the Railer season. As I have always said, any comments or thoughts about the stories, both good and bad, are appreciated.
I'm ready for a season to remember, How 'bout you?
[By JEFF BENJAMIN]
Click here to respond to this article.
Jeff Benjamin's Railer basketball articles