Park district notes
From Roy Logan, program coordinator

Send a link to a friend
[November 12, 2013] The Fit Zone at the Lincoln Park District will host an open house Saturday, Nov. 16, from 10 a.m. until 2 p.m. People attending the open house in the fitness portion of the park district's Sports Center will be able to meet personal trainers for a free fitness assessment. Male and female trainers will be present. Group fitness instructors and trainers will be available to suggest which classes would best "fit" your fitness level. A free body fat test on three skin-fold sites will be offered by one of the park district's trainers from 11 a.m. until 1 p.m. Attendees will have the opportunity to register for door prizes and a grand prize as well. Complimentary bottled water and fruit will be offered. Tours of the facility, including the aerobic studio, spin room, cardio and weight rooms will be conducted. People wanting to join may purchase a membership during the open house and receive a 15 percent discount.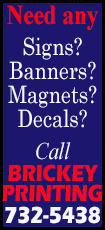 A Fit for Kidz class will be offered during tours. This class will include football throwing and a coloring station. Children must be age 3 or older to participate. Also open for inspection will be a series of mini fitness classes. Observers may preview or participate in Spin or Yoga classes from 10 to 10:30 a.m. and in Spin or Cardio Dance from 10:30 to 11 a.m. Yogalates will be from 11 a.m. to 11:30, Pump & Sculpt from 11:30 a.m. to noon, followed by 30 minutes of Hula Dance, beginning at noon. From 12:30 to 1 p.m. will be Simply Lean, Cardio Kickboxing from 1 to 1:30 p.m., and from 1:30 to 2 p.m. you will find Pilates or Spin. There are no charges to participate in any of the mini classes.

At the end of November, the park district will host the 19th annual Pride of the Prairie Folk Art and Craft Show. Reserve some time on Saturday, Nov. 30, between 8 a.m. and 3 p.m. to attend this juried show. The event each year brings together a collection of the area's finest artisans and craftsmen. Each exhibitor was selected for the quality and design of their work. A wide variety of styles will be featured just in time for holiday shopping. Included will be primitives, folk art, watercolors, quilts, iron sculpture, jewelry and baskets, naming only a few. Also new this year will be stained glass and fused glass artists. Many of the shoppers in past years have found the perfect stocking-stuffer or just the right piece for that difficult person to buy for on their list.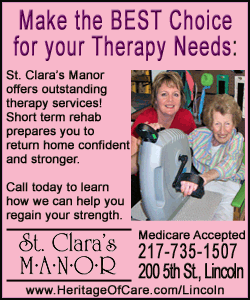 The park district will still offer Treats with Santa again this year. Bring children wanting to talk to Santa to the park district on Saturday, Dec. 14. This event will begin at 9 a.m. and conclude after the last child at 11 a.m. The park district will offer Christmas games and a coloring contest along with milk and cookies. While this announcement can't reveal everything that happens on that magical morning, we can say that our Santa is the one who is definitely in the know! Parents or others knowing what the child got last year for Christmas should accompany the child. This is being done in partnership with WLCN-FM 96.3 radio station in Atlanta. The radio station will submit it to Comcast Channel 5.
[Text from file received from Roy Logan, Lincoln Park District]