A news release about the prayer wall provides this background:

"Because we live in a church saturated culture where Bibles can be accessed on our phones and there are churches on every corner, it is difficult to grasp that 2.7 billion people in the world have never heard the name of Jesus, have no access to a Bible, have no missionary, and may never hear the Gospel. Researchers have identified around 7,000 people groups with a total population of 2.7 billion as being unreachedóthis is approximately 40% of the world's population! (source/resource http://www.joshuaproject.net/)

"All of these numbers can seem like random statistics. What if there was a way to visualize the enormity of the task of reaching all of these people with the life-changing message of the Gospel? Imagine a 60 ft. wall containing a list of the 1,587 largest unreached people groups. This wall is called the Unleashed for the Unreached Prayer Wall and helps to make the enormous task before us of reaching the world for Christ visually memorable and calls believers to prayer."

According to the Unleashed for the Unreached website, the campaign was launched at the 2011 North American Christian Convention in Cincinnati, Ohio, when the convention president, Dudley Rutherford, delivered his keynote address on the evening of July 5, 2011. "He asked churches everywhere to partner together to form networks that would boldly tackle the problem of getting the word out to unreached people groups and cities still uninformed about the Good News of Jesus Christ," the website says.

The initiative connects local churches with unreached peoples and cities, facilitated by trained project fulfillment specialists, peer mentoring and prayer.

The "Wall of Unreached Peoples" has been featured at the North American Christian Convention and the International Conference on Missions.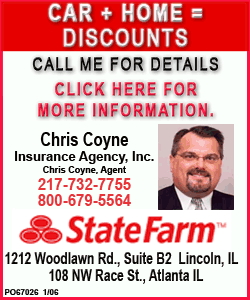 When the wall is at Lincoln Christian Church from Wednesday, Nov. 20, through Wednesday, Nov. 27, there will be multiple opportunities for visitors to interact with the prayer wall. Scheduled activities include:
Wednesday, Nov. 20, at 6:30 p.m. -- "Aha" moment with Dr. Wayne Shaw

Saturday, Nov. 23, from 6 to 7:45 p.m. -- "Unleashed for the Unreached" seminar with Doug Lucas, team expansion president

Sunday, Nov. 24, at 8:15, 9:30 and 11 a.m. -- Doug Lucas will preach.

Open time for prayer -- Saturday, 9 a.m.-6 p.m., and Sunday, 8 a.m.-6 p.m.

Additional prayer opportunities for individuals and groups will be available throughout the week. For more information or to schedule a time to come, contact Lincoln Christian Church 217-732-7618.
Those who can't come to the events are invited to check out the resources on http://www.joshuaproject.net/, where people can get a daily email reminder to pray about an unreached people group and find out more information about unreached peoples. Those who would like to commit to praying for a specific unreached people group can visit the website, http://www.u4theu.com/, and find a form under contacts. Follow Unleashed for the Unreached or Unreached Peoples - Joshua Project on Facebook.