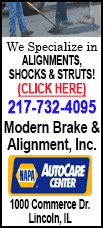 A Douglas County judge sentenced Rogelio Javier Gutierrez on Tuesday, calling the crimes a "predatory pattern" that was "especially egregious."

The 34-year-old Humboldt man pleaded guilty this summer. He was sentenced for official misconduct and intimidation for his work while he was a police officer in Arcola. He was also ordered to repay about $3,900 he admitted taking from drivers.

Prosecutors say he'd order drivers to pay him for traffic violations. He told them they'd risk arrest, having their car impounded or having their names added to a list of motorists without appropriate licenses.

Arcola is about 30 miles south of Champaign.
Copyright 2013 The Associated Press. All rights reserved. This material may not be published, broadcast, rewritten or redistributed.