Star of 'Meteorite Men' blazes into central Illinois

Send a link to a friend
[October 02, 2013] SPRINGFIELD -- Almost eight months after the Chelyabinsk meteor exploded over Russia, Steve Arnold, one of the "Meteorite Men" from the Science Channel's hit series, will blaze into central Illinois. Arnold will be the featured exhibitor Saturday and Sunday at the Lincoln Orbit Earth Science Society's annual Gem, Mineral and Fossil Show at the Illinois State Fairgrounds. He will display selections from his personal collection and also offer meteorites for sale.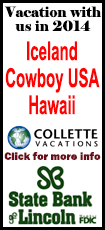 Arnold is one of the world's most famous meteorite hunters, having found meteorites on six continents in his 21-year meteorite hunting career. He and his wife, Qynne, own and operate Arnold Meteorites and More in Eureka Springs, Ark. In addition to his many magazine features and television appearances, he is an associate editor with the industry's premier publication, Meteorite Magazine. He will be available for interviews at the show.

But the LOESS Show is more than meteorites. There are also 12 dealers who will sell minerals, gems, fossils and jewelry. Visitors can also watch as 16 demonstrators clean fossils, crack geodes, knap flint arrowheads, and make jewelry, glass beads, gem trees, cabochons and stone pens. There will be a silent auction on the half-hour and a "kids only" 50-cent table. An impressive display of fluorescent minerals will demonstrate the array of brilliant colors that some rocks display under ultraviolet light.

The show will be open from 10 a.m. to 6 p.m. Saturday and 10 a.m. to 5 p.m. Sunday at the Illinois Building on the state fairgrounds.
Parking is free, and admission is $2 for adults and $1 for seniors. The show is free for Scouts in uniform, 4-H groups and children under 12.
For more information, contact LOESSPresident@gmail.com or visit Lincoln Orbit Earth Science Society on Facebook.
___
Arnold Meteorites and More:
https://www.facebook.com/MeteoritesAndMore
[Text from file received from the Lincoln Orbit Earth Science Society]