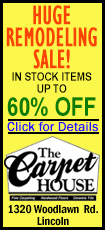 Shares rose $8.01, or 47 percent, to close at $25.01 while the broader markets closed lower.
The Burlington, N.J.-based discount retailer sold 13.3 million shares of common stock for $17 per share in an initial public offering that raised about $226.1 million.
It also granted the offering's underwriters a 30-day option to buy up to 2 million more shares, which would raise an additional $34 million. After discounts, commissions and expenses, Burlington says it expects to net $205 million in proceeds, which it plans to use to pay off debt.
The strong debut comes as the venerable chain, which competes with the likes of Ross Stores Inc. and TJX Cos., the parent of T.J. Maxx, has found itself in the sweet spot of the slow recovery: it sells coats and other clothing at deep discounts to top brands, appealing to shoppers still smarting from the recession.
"It has many famous name labels and it has a good reputation," said Walter Loeb, a New York-based retail consultant. "I am not surprised that it is surging."
In 1972, Monroe Milstein and his wife, Henrietta, founded Burlington Coat Factory, selling coats and outerwear from a single outlet in Burlington, N.J. But Milstein always claimed that the chain's roots go back to 1924 when his father, Abe, opened a wholesale coat business in the garment district in New York City.
Burlington Coat Factory then began to gradually expand with other outlets while moving into other areas like sportswear, suits, and toys. The company became a Delaware corporation in 1983 under the name Burlington Coat Factory Warehouse Corp. when it first became a public company.