Food for thought: Cutting back on salt may cause you to eat more
(BPT) -- Our bodies naturally crave salt, a necessary nutrient, and research shows that we gravitate to the amount we need for our bodies to function properly. Salt deficiency has been linked to a host of health concerns, including insulin resistance, increased risk of heart attacks and reduced cognition. But what if eating less salt also increases your weight by making you eat more?
(Click here for the rest of the story.)
---
Are your food and cooking choices accelerating the aging process?
(BPT) When it comes to health, many people are aware of the major do's and don'ts of maintaining a healthy lifestyle and diet. However, people often focus on their cholesterol, blood pressure and body mass index, or BMI, and overlook another key medical marker: advanced glycation end-products, or AGEs. AGEs are harmful compounds in the body that accelerate the aging process and are linked to many of the top health concerns people face today. (Click here for the rest of the story.)
---
Senior farmers market coupons
Senior farmers market coupon booklets are still available, according to the Area Agency on Aging for Lincolnland. People 60 years of age and older who meet income guidelines are eligible for free coupons to be used to purchase a total of $21 worth of fresh fruits and vegetables at the Latham Park and Scully Park markets. Coupon booklets may be obtained Monday, Sept. 23, from 9 a.m. until 1 p.m. at the Oasis Senior Center's temporary location at St. John United Church of Christ, 204 Seventh St. in Lincoln. (Click here for the rest of the story.)
---
---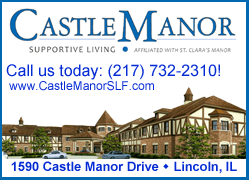 ---
State recognizes adult day service providers during awareness week Sept. 15-21
SPRINGFIELD -- In observance of Adult Day Services Week, Illinois Department on Aging Director John K. Holton, Ph.D., praised providers who offer support services at adult day centers. Adult day service, or ADS, is designed for older adults who want to remain in the community but face limitations if left home alone during the day, due to physical, social or mental impairment. In addition to recreational and therapeutic activities to help clients maintain and develop physical and mental status, the day service provides health and medication supervision, personal care, and meal service for clients. Providers also offer respite for family caregivers, especially those who are employed outside the home. (Click here for the rest of the story.)
---
America's other drug problem: prescriptions not taken
(BPT) -- America has a serious drug problem, but it's not the one you might be thinking about. The problem is not illegal drugs or drug abuse, but rather an alarming percentage of Americans who do not take their prescriptions as instructed. Approximately 125,000 deaths per year in the United States can be attributed to medication non-adherence, according to the National Pharmaceutical Council. (Click here for the rest of the story.)
---
Fraud alert: Grandparent scam continues to trick people out of money
(BPT) -- Imagine being wakened by a phone call in the middle of the night. It's your crying grandchild, who is asking for money because of an accident. Of course you want to help your loved one, so you do whatever you can in this emergency situation. You open your wallet without hesitation. (Click here for the rest of the story.)
---