Park district notes
From Roy Logan, program coordinator

Send a link to a friend
[October 08, 2013] Saturday, Oct. 26, is the date for the second annual Trick or Treat with the Mayor followed by Trunk or Treat. The Lincoln Park District has partnered with the city of Lincoln and Main Street Lincoln to bring a lot of fun for trick-or-treaters in downtown Lincoln. Register in Latham Park beginning at 3 p.m. At 3:30 Mayor Snyder will lead the trick-or-treaters around the downtown area, stopping at participating business and allowing the costumed children to fill their bags with goodies. From 4:30 to 6 p.m. everyone should go to the south side of the courthouse, on Pulaski Street, for Trunk or Treat, where the young people will go from decorated vehicle to vehicle. Free hot dogs will be provided by Joe Ryan Country Financial, and the YMCA will offer lots of fun and games for the children. Trunk or Treat provides a safe environment for families to enjoy an inexpensive Halloween atmosphere. If you have any questions about these free events, contact the park district at 732-8770 or info@lincolnparkdistrict.com.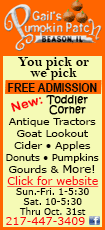 To reserve a space for Trunk or Treat, call the park district. There are no registration fees. Individuals, businesses and organizations are invited to participate in Trunk or Treat. All you have to do is come downtown, park, decorate your vehicle with a Halloween theme and bring lots of candy or anything a child may enjoy. Participants may begin setting up their vehicles at 3:30 p.m.

Of course it just couldn't be Halloween without Halloween FunFest. The fun kicks off on Wednesday, Oct. 30, from 5 to 6:30 p.m. at Symphony of Lincoln, 2202 N. Kickapoo. Trick-or-treaters will go from room to room receiving treats from the residents at the facility. Parents are encouraged to take their small children because the residents really enjoy seeing the young people in their costumes.

Following that it is Halloween FunFest time at the park district, running from 6:30 to 8:30 p.m. on the indoor tennis courts. There will be lots of games for the costumed trick-or-treaters to play, and everyone wins prizes and candy. This is a free event for the children and their families due to the generous donations and financial support of many local businesses and nonprofit organizations.

A new Beginner Kickboxing class is being offered on Saturday mornings in the aerobics room at 9:15. Certified instructor Danita Barger will teach the basics of punches, kicks and terminology. Full boxing gloves are recommended but not required. The gloves are suggested for the extra protection and added weight components that would enhance your workout. This class is designed with beginners in mind and is scheduled to be 30 minutes in length.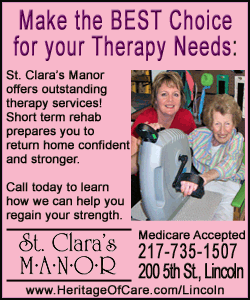 You are invited to join a "Spooky Glow in the Dark Spin Ride." These classes will be at 5:45 p.m. on Wednesday, Oct. 30, and Thursday, Oct. 31. Glow sticks will be passed out to participants. Spin to some "hauntingly" fun music and have a "ghastly" good time. First-come, first-served basis with 14 spots available for each class.
Other new classes are Be Strong Yoga on Monday 8:30 a.m. and on Tuesday at 5:45 p.m. Also at 5:45 p.m. Tuesday is Power Pilates. Visit www.lincolnparkdistrict.com for a listing of all of the group exercise classes.
[Text from file received from Roy Logan, Lincoln Park District]