4-H is preparing youth for the challenges of life
Local clubs observe National 4-H Week

Send a link to a friend
[October 11, 2013] Logan County youth are joining the more than 7 million other 4-H members across the nation in celebration of National 4-H Week Oct. 6-12. The Logan County program involves more than 261 youth and 112 volunteer leaders in organized community and special interest clubs, known as SPIN clubs, operating in all areas of the county.
Last year, 261 young people in Logan County, ranging in age from 5 to 18, were involved in 4-H community/SPIN clubs where, assisted by volunteer adult leaders, they learned about projects, careers, leadership and public speaking. The 4-H club members also support their local community through service projects such as making and delivering baskets for seniors, making shoeboxes for Operation Christmas Child and collecting dog food and treats to help with animal control.

Concrete, independent research proves the positive impact of 4-H membership on the lives of young people. Statistics show that 4-H members are nearly three times more likely to spend time exercising or being physically active than non-4-H members and have significantly lower drug, alcohol and cigarette use than their peers.
In addition, 4-Hers are nearly five times more likely to graduate from college and nearly two times more likely to pursue a career in science, engineering or computer technology.
A Tuft University study also showed that 4-H youth are nearly two times more likely to actively contribute to their community when compared with non-4-H youth, and 4-Hers are 2 1/2 times more likely to participate in civic activities.
Logan County residents only need to look at this year's 4-H member stories to see the truth in these national statistics.
Logan County native Rachel Skelton, a member of the 4-H Illinois Youth Leadership Team, said: "4-H is so much more than a club for farm kids. The 4-H image has changed significantly since I joined and now includes projects with a focus on community, technology, engineering and health. 4-H has helped me learn life skills, given me a change to become more responsible, taught me about leadership and helped me contribute to my community."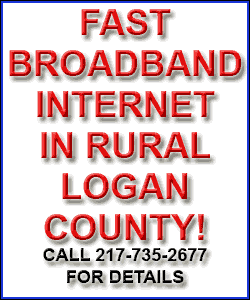 Alyssa Zimmer, a Cloverdale 4-H member, said: "Being involved in 4-H led both my parents toward their career choices. Now my brother is in college studying something that he initially become interested in during his time in 4-H. Now I am left wondering what will be in my future. Through my work with 4-H Summer Nutrition Camp, I found that I enjoy working with children. They brought a lot of fun to my summer, and I miss them very much. I think that teaching could be in my future!"
Cameron Jodlowski, a 10-year member of the Atlanta Town and Country 4-H Club, is studying agricultural communications at Iowa State this fall. He said he has seen his progression in understanding responsibility, leadership and the value of hard work through his 4-H dairy goat project.
To learn more about joining 4-H, contact University of Illinois Extension in Logan County at 217-732-8289 or email Carissa Akpore at akpore@illinois.edu.
[Text from file received from University of Illinois Extension, Logan County 4-H]