Annual meeting of Senior Services of Central Illinois

Send a link to a friend
[October 15, 2013] SPRINGFIELD -- The 46th annual meeting of Senior Services of Central Illinois was on Sept. 26 at the Springfield Senior Center. That evening more than 80 board members, staff and guests celebrated the culmination of another year of quality nonmedical services to senior citizens in Sangamon, Logan, Mason and Menard counties.
New officers and board members were elected. The officers for the 2013-2014 year are Eileen Tepatti of Lincoln Land Community College, president; John Cameron of First Care Health Care, vice president; Scott Kains of the Sangamon County state's attorney's office, secretary; and Michael Erickson of Springfield Clinic, treasurer. Others who will serve on the board for the coming year are returning board members David Fuchs, retired Judge John Mehlick, Pam Hart, Chris Rourke and Jim Cox, and newly elected board members Joe Brummel, Joseph Rupcich, Christie Chevalier, Mark Clayton, Mike Farmer, Patrick Lam, JoAnna Rentschler, Wayne Rovey, P.J. Staab and the Rev. Leland Uden.

Awards were given for staff service to the agency. Sharon Davis of Greenview received an award for 35 years of service to Senior Services of Central Illinois in the Daily Bread program. Norma Wilson of Athens and Robert Sauter of Springfield both received awards for 15 years of service. Vicki Foster of Petersburg and Patsy Conrad of Springfield both received awards for 10 years of service. Receiving awards for five years of service were Amy Voils, Pawnee; Kathleen Otken, Springfield; Laura Meredith, Sherman; and Allison Greenfield, Petersburg.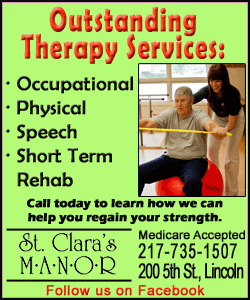 Other awards were given for "Best Community Friends." These awards go to individuals or organizations from the community who have gone above and beyond in serving seniors and the agency. This year these awards were given to Incredibly Delicious, the Foster Grandparents program from One Hope United, and the King's Daughters organization.
Senior Services of Central Illinois provides nonmedical services such as nutrition, transportation, counseling, case management, information and assistance, elder abuse investigations, and socialization activities and recreation. The main offices are at the Springfield Senior Center on North Walnut in Springfield, with additional offices at 424 N. Fourth in Springfield and an office in Petersburg. Seniors in Mason, Menard, Logan and Sangamon counties benefit from these services. Any senior needing assistance may contact SSCI at 217-528-4035.
[Text from file received from Senior Services of Central Illinois]