24th Land of Lincoln Honor Flight takes place next week
Send a link to a friend
[October 16, 2013] SPRINGFIELD -- Next week, Land of Lincoln Honor Flight will honor 16 more World War II veterans and 70 more Korean veterans with a one-day trip to Washington, D.C., on Tuesday to see the World War II Memorial, Korean Memorial, Vietnam Memorial, Arlington Cemetery, National Air and Space Museum, and other memorials. If the government is still "shut down," the Air and Space Museum will be closed. Seventy-six guardians who are responsible for the veterans' comfort and safety will be on this 24th Land of Lincoln Honor Flight.
Donations and efforts of many individuals, organizations and businesses have allowed Land of Lincoln Honor Flight to honor these veterans.

The public is invited to a "welcome home" ceremony for these WWII and Korean-era veterans when the plane arrives back at Abraham Lincoln Capital Airport in Springfield at 9:30 p.m. on Tuesday. This is the sixth and last flight for 2013. Wear red, white and blue to show your appreciation.

Veterans on this flight come from Arlington, Neb., Bronson, Texas, Junction City, Ore., and from the Illinois towns of Alton, Auburn, Bloomington, Canton, Cantrall, Chatham, Cuba, Decatur, Eureka, Girard, Godfrey, Havana, Hillsboro, Jacksonville, Jerseyville, Kane, Lewistown, Lincoln, Mackinaw, Manito, Maroa, Meredosia, Morrisonville, Morton, Morton Grove, Mount Pulaski, Newton, Nokomis, Pana, Paris, Pekin, Peoria, Petersburg, Pittsfield, Pleasant Plains, Raymond, Riverton, Rushville, Springfield, Taylorville, Thayer, Vermont, Virden, Waverly and Winchester.

Trip applications are still being accepted for the following, but WWII veterans will be served first:
Veterans who enlisted by Dec. 31, 1946 (WWII -- 24 currently on the list)

Veterans who served Jan. 1, 1947-Dec. 31, 1957 (Korean era -- 163 currently on the list)

Veterans who served Jan. 1, 1958-May 7, 1975 (199 currently on the list)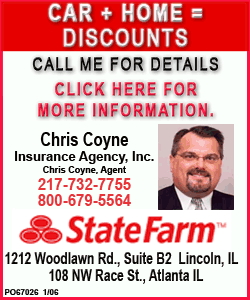 The Land of Lincoln Honor Flight board welcomes the chance to speak to organizations, businesses, churches, conventions or other groups about the Honor Flight mission, future flights, guardian duties, fundraising and donations. For more information about this flight, how individuals and groups can help the mission, how to obtain applications, how to become a member, and to learn more about Land of Lincoln Honor Flight, go to the website www.landoflincolnhonorflight.org or contact Ray Wiedle, chairman, at home phone 314-427-2317, cell 217-622-1473 or email arwiedle@sbcglobal.net.