3rd annual Moving Forward 5K results
Send a link to a friend
[October 16, 2013] The Abraham Lincoln Healthcare Foundation and Memorial SportsCare at Abraham Lincoln Memorial Hospital have announced the winners of Saturday's Moving Forward 5K. Over 130 runners and walkers of all fitness levels participated in the third annual event at Edward Madigan State Park in Lincoln.
Proceeds support wellness programs in Logan County.

___

Overall male winners:
Jackson Johnson, 17:03.7

Carl Cox, 20:02.5

Jeff Hanger, 20:19.6
Top male finisher 11 and under:
Kyle McCuan, age 9, 21:40.6
Top male finisher 60 and over:
Rod Lewis, 23:18.0
Overall female winners:
Heather McCuan, 21:43.2

Mattie Rogers, 22:13.4

Susan Tracy, 22:34.1
Top female finisher 11 and under:
Hattie Mourning, age 8, 28:38.6
Top female finisher 60 and over:
Joyce Hubbard, 28:25.5
Top female finisher with stroller:
Laura Miller, 28:24.6
Top male finisher with stroller:
Kenny Winkler, 23:41.3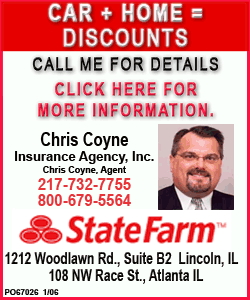 Memorial SportsCare at ALMH is a full-service athletic training program for young athletes and active adults. Services include performance enhancement, injury prevention, concussion management, training zone programs, high-tech knee and shoulder treatment, and more. For more information about the Moving Forward 5K event, call the ALMH Rehabilitation Department at 217-605-5500 or visit www.almh.org.