[October 19, 2013]
Send a link to a friend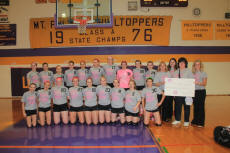 MOUNT PULASKI -- A good time was had by all in Mount Pulaski on Thursday night at the 2013 Volley for the Cure. Together the communities of Riverton and Mount Pulaski raised $2,474 that was presented to Michael Stauffer's mom, Cynthia. Local cancer survivors were also recognized in a ceremony before the game.
Folks enjoyed a delicious barbecue dinner served by the FCCLA, as well as the opportunity to win various raffle prizes. The 50-50 raffle was won by Denise Farnam, who donated the money back to the Stauffer family.

On the court, much to the delight of the Mount Pulaski fans, it was all about the Lady Toppers. The Lady Toppers dominated Riverton in the first match and won 25-13.
The second match saw Mount Pulaski lead the entire time, and although Riverton charged back at the end, the Lady Toppers held on for a 25-22 win. Cady Lowery led the team with nine kills, and Maddy Davis followed with eight kills while Whitney Nichols contributed seven kills and 10 digs. Maggie Olson had another terrific night with 24 assists. Elizabeth Allen had seven digs while Lilly Pickett chipped in with two kills and three blocks.
Mount Pulaski travels to Glenbard this weekend for its annual tournament. The Lady Toppers will play their last home game of the season on Tuesday, with Senior Night.
Text and pictures by Teena Lowery