ON LINCOLN'S MIND
The ethics of recruiting black troops

Send a link to a friend
[October 26, 2013] SPRINGFIELD -- With Nov. 19 marking the 150th anniversary of the Gettysburg Address, the Abraham Lincoln Presidential Library and Museum is featuring letters to or by Lincoln, written between the end of Battle of Gettysburg on July 3, 1863, and his famous speech at Gettysburg. Each letter represents one of the many issues he had to face as chief executive of the nation during its greatest crisis.
The official enlistment of African-Americans into the Union Army was a new practice during the Civil War. Its novelty and need for expediency sometimes clashed as overzealous or unscrupulous recruiters pushed the boundaries of acceptable practice. Lincoln appreciated the efficiency of his recruiters, as was evident in this endorsement of John A. Nelson.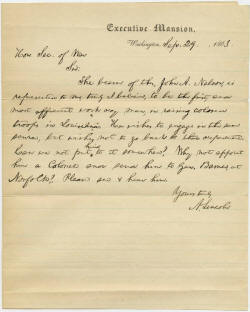 Abraham Lincoln to Edwin M. Stanton
Sept. 29, 1863
(Copy of letter transcript)
Executive Mansion,
Washington, Sep. 29., 1863.
Hon. Sec. of War
Sir:
The bearer of this, John A. Nelson, is represented to me, truly I believe, to be the first, and most efficient work day man, in raising colored troops in Louisiana. He wishes to engage in the same service, but wishes not to go back to that department. Can we not put him to it somewhere? Why not appoint him a Colonel and send him to Gen. Barnes, at Norfolk? Please see & hear him.
Yours truly
A. Lincoln
___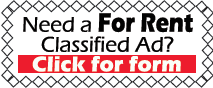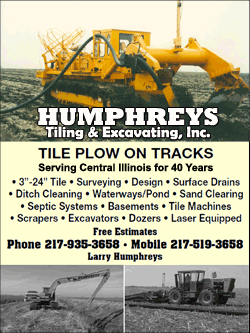 However, Nelson's efficiency also proved to be a significant problem. He was not simply offering military jobs to runaways and free blacks in the Deep South, but was forcibly impressing African-Americans into service. Nelson's productivity surely made his work appear effective to someone as far removed as Lincoln, but it was also morally questionable at best or illegal at worst.
Nelson received his transfer but was soon dismissed by his commanding officer for the same ruthless tactics he adopted in Louisiana. Again, Lincoln defended the recruiter, but a military examination proved Nelson's guilt and confirmed his dismissal.
Examples like Nelson's show the potential complications when men who possibly viewed African-Americans as racially and intellectually inferior supervised their recruitment. Lincoln's defense of Nelson showed how the myriad responsibilities the president faced may have obscured harsh realities on the ground.
___
To see one of only five copies of the Gettysburg Address in Lincoln's hand and to receive a free booklet titled "On Lincoln's Mind: Leading the Nation to the Gettysburg Address," containing this and other document stories, visit the Abraham Lincoln Presidential Library and Museum between Nov. 18 and 24.
[By the editors of the Papers of Abraham Lincoln. Text from file provided by the Abraham Lincoln Presidential Library and Museum and received from the Illinois Historic Preservation Agency]