The prime event on Saturday offered handcrafted items that were available by straight-out purchase, silent auction and open auction. It also featured signature homemade foods to be eaten on-site or carry-home. Inside, the aroma of cinnamon and caramel pecan rolls wafted through the halls. Outside, the sweet wood smoke filled the fall air as giant kettles simmered beef vegetable soup.

Inside and outside, there was plenty of serving, eating, visiting at many different stations, tents, rooms and in the main auditorium. Hungry shoppers could grab a bowl of soup and a brisket sandwich, which was particularly appealing to those coming in from the 5K run/walk that began outside the church at 8:30 a.m. A new tea room, Hospitali-tea, served four pre-ticketed sittings offering tasty homemade foods and a special Harvest blend of tea.

The crowds increased all day with throngs of people unhurriedly, but intensely browsing merchandise, looking for just the right bird feeder, kitchen apron, hair doodad, jewelry piece, knitted scarf, bakery, yard or household ornament, with a thousand to choose from and numerous quick, easy checkout counters throughout the building.

The day concluded with an auction beginning at 2 p.m. of unique, high-quality items such as handmade quilts, leaded glass designs, paintings, furniture, large floral pieces and more.

On Sunday, the church celebrated the end of this year's Harvest of Talents with a special worship service and the presentation of a check to Rick Jett, the executive director of International Disaster Emergency Service.

Prior to the check presentation, Carolyn Neal offered a few words.

"Over a billion people go hungry, but tomorrow, that number will be less because of all the faithful Harvest hearts and hands who honored I Peter 4:10 and shared a measure of their time, talents and resources to partner with International Disaster Emergency Service and the 30th Harvest of Talents for World Hunger, raising $101,068.15 for hunger relief this year," Neal said. "You gathered your thoughts to pray, your family and friends, your coins, your talents, and your time to volunteer, and helped to make a difference that will stretch around the world in Jesus' name. On behalf of those who will receive Harvest food (physically and spiritually), thank YOU, bless you!!!"

The check was presented to Jett by Patricia Snyder. Jett in return presented "Servant's Towels" embroidered with the IDES logo and bearing the words "Your faithful service has made a world of difference" to Neal and Snyder.

The 2013 Harvest of Talents brought in $101,068.15, bringing the 30-year total to $1,819,213.38. This was a record year, after the previous high total of $92,499.88 back in 2008.

Other Harvest of Talents activities, including musical presentations and teas, are conducted during the year as well.

Working with International Disaster Emergency Service, all proceeds are used to aid those affected by disaster and to relieve world hunger.

Visit IDES at http://www.ides.org/ to see what projects the agency has been working on this past year.

[By JAN YOUNGQUIST with additional information provided by Patricia Snyder, Lincoln Christian Church]
---

Ludolph named ALMH October Employee of the Month
Darla Ludolph of Williamsville has been named the October Employee of the Month at Abraham Lincoln Memorial Hospital. Ludolph is a radiologic technologist at ALMH. She has worked for the hospital for over 39 years.
Ludolph has worked in all areas of radiology and served as the department manager for nine years. Ludolph is registered in mammography and has been performing the screenings full time since ALMH moved to its new building in March 2011.
"ALMH has always been like a family to me. I work with great friends. And most importantly, I work with state-of-the-art equipment, which allows me to perform excellent exams for my mammography patients," Ludolph said.
Ludolph was nominated for the honor by an ALMH mammography patient who said: "From the time she greets me with a smile in the lobby until the time we say goodbye, Darla makes the mammogram an experience I no longer dread. She is caring, yet professional, and I appreciate her explanation of the X-rays in a manner I can understand. To sum it up, she is a jewel."
Ludolph was born into a military family at Shaw Air Force Base in South Carolina. Growing up, she lived in 10 states, including Hawaii, and also in the Philippines. 1974 was a momentous year for her. After graduating from St. Francis School of Radiologic Technology in Peoria, she took her first position at ALMH and was also married to Rich Ludolph. Her marriage and career are both going strong after 39 years.
ALMH, at 200 Stahlhut Drive in Lincoln, is a 25-bed critical access hospital affiliated with Memorial Health System. The hospital employs over 315 in a variety of roles. For more information about ALMH, including digital mammography, visit www.almh.org.
---

Knights of Columbus Ladies Auxiliary to host quarter auction for the Oasis on Nov. 1
The Knights of Columbus Ladies Auxiliary will host a quarter auction on Friday, Nov. 1, to benefit the Oasis. Doors will open at 5:30 p.m., and the auction will begin at 6:30 p.m. This event is open to the public and will be in the banquet room of the Knights of Columbus, on Limit Street.
The cost of a paddle is $2 and a person may purchase up to five paddles. All proceeds from the event will go directly to the Oasis Senior Center. The organization's building downtown was damaged by fire in June.
Several vendors will also have tables of cash-and-carry items, and the Knights of Columbus will have their baskets available for purchase.
Shrimp, walleye or chicken strips, plus fries, will be available for $6, and the bar will be open.
The organizers said in a news release: "We are excited to be able to provide an opportunity for local vendors to display their products; all the while lending our support to the Oasis Senior Center. It is a vital part of the continued positive quality of life that seniors of Lincoln and Logan County deserve. And it's just a great time."
---

Red Cross invites eligible donors to give blood in honor of military members, veterans
PEORIA -- Veterans Day is Nov. 11, and the American Red Cross invites eligible donors to schedule an appointment to give blood in November in honor of those who have served the country in the U.S. armed forces.
Blood donated through the Red Cross is distributed to about 2,700 hospitals and transfusion centers across the country for patients in need, including patients at many U.S. Department of Veterans Affairs medical centers. Blood transfusions help save lives every day, and all blood types are currently needed, especially O-negative, A-negative and B-negative.
Appointments to roll up a sleeve and donate can be made today by visiting www.redcrossblood.org or calling 1-800-RED CROSS (1-800-733-2767).
Another way to support veterans, military families and active-duty service members at hospitals and installations around the world is by sending holiday cards through the annual Holiday Mail for Heroes program. Between now and early December, the Red Cross will collect the cards and distribute them. Learn more at www.redcross.org.
Upcoming blood donation opportunities in Logan County:
Monday, Nov. 4, 10 a.m.-3 p.m., at Lincoln Christian University, Route 10, Lincoln

Friday, Nov. 8, 9 a.m.-1 p.m., at Hartsburg-Emden Jr./Sr. High School, 400 W. Front St., Hartsburg
How to donate blood
To make an appointment or for more information, call 1-800-RED CROSS (1-800-733-2767) or visit www.redcrossblood.org. All blood types are needed to ensure a reliable supply for patients. A blood donor card or driver's license or two other forms of identification are required at check-in. Individuals who are 17 years of age (16 with parental consent in some states), weigh at least 110 pounds and are in generally good health may be eligible to donate blood. High school students and other donors 18 years of age and younger also have to meet certain height and weight requirements.
---

Chris J. Graue wins national recognition at dealer convention for community service and industry accomplishments
NEW YORK -- The nomination of Chris J. Graue, general manager of Graue Chevrolet Buick Cadillac in Lincoln, Ill., for the 2014 Time Dealer of the Year award was announced Thursday by Time.
Graue is one of a select group of 57 dealer nominees from across the country who will be honored at the 97th annual National Automobile Dealers Association Convention & Exposition in New Orleans, La., on Jan. 25, 2014. This year's nominees were announced by Jed Hartman, group publisher for news and business for Time Inc., and Tim Russi, president of auto finance for Ally Financial.
"The dealers nominated for this award are community heroes, as well as economic and civic leaders, who have time and again shown their dedication to making a difference," said Russi. "Ally is pleased to once again be supporting these dealers in their efforts to create vibrant, thriving communities."
In its third year as exclusive sponsor, Ally will recognize dealer nominees and their community efforts by contributing $1,000 to each nominee's charity of choice. Nominees will also be recognized on the recently launched website, AllyDealerHeroes.com, which highlights the philanthropic contributions and achievements of auto dealers across the U.S.
The Time Dealer of the Year award is one of the automobile industry's most prestigious and highly coveted honors. Recipients are among the nation's most successful auto dealers who also demonstrate a long-standing commitment to community service.
Graue, 50, was chosen to represent the Illinois Automobile Dealers Association in the national competition and is one of only 57 auto dealers nominated for the 45th annual award from among 17,000 dealers nationwide.
He was nominated for the Time Dealer of the Year award by Peter J. Sander, president of the Illinois Automobile Dealers Association.
The award is sponsored by Time in association with Ally Financial and in cooperation with NADA. A panel of faculty members from the Ross School of Business at the University of Michigan will select one finalist from each of the four NADA regions and one national Dealer of the Year.
"We deal with each customer as an individual," Graue said. "We want the customers to feel comfortable with their purchase decision, and just as important, we provide outstanding personal service after the sale."
And that technique has led to a successful business for Graue, who graduated from Lincoln Community High School in Lincoln in 1981 and went on to earn an associate degree in electronics and computer science from Parkland College in Champaign in 1986.
"I had an interest in the family business, and my father encouraged me to continue and take over when he retired," Graue said.
He complemented his training by attending the NADA Dealer Candidate Academy in 1988 and is now a majority owner of the dealership.
"I've been in the retail car business my entire life," he added.
A member of the Lincoln Rotary Club, Graue's lifelong association with the city has inspired him to give back to the community. He has served as event organizer for Up in Smoke on the Square, a popular barbecue competition at the city's annual Art & Balloon Festival. He was named the Lincoln/Logan Chamber of Commerce Volunteer of the Year in 2013 for his efforts in bringing the barbecue contest to Lincoln.
Graue has also organized fundraising for the local Boy Scouts that has raised more than $40,000 in five years.
"Our efforts helped well over 125 Scouts to go to summer camp, reducing the burden on their families," he said.
A recipient of several citizenship awards, Graue is humbled by being selected to represent Illinois for the Time Dealer of the Year award as his father did in 1978.
"He was named to the national top 10," Graue said. "Just to be named to the same list is a lifetime achievement for me."
Robert E. Graue and his son Chris J. Graue are the first father and son to be named Time Quality Dealers of the Year in Illinois.
Graue and his wife, Phyllis Ann, have three children.
---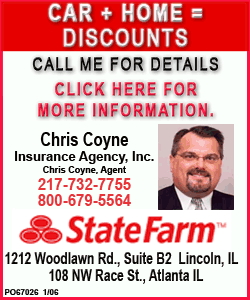 ---

City of Lincoln fall cleanup schedules: landfill hours and leaf pickup days
For the convenience of Lincoln residents, the city landfill will be open six days a week beginning Tuesday, Oct. 29. Landfill hours will be Tuesday through Sunday, 8 a.m. to 3:50 p.m., and closed on Mondays.
The landfill is specifically for landscape waste. Trash dumping will not be permitted there.
With the new city agreement for commercial mulching, products brought to the landfill by residents should be separated into two categories: wood products and lawn waste, such as plant material and leaves.
Wood waste for mulching is defined as logs, limbs or brush. All wood materials for recycling must be free of all metal or foreign debris, excluding nails and bolts three-eighths inch or smaller. Logs and limbs should be cut to a maximum length of 4 feet.
The landfill will maintain a six-day-a-week schedule through Tuesday, Nov. 26. Afterward the schedule will go back to open hours Saturday and Wednesday from 8 a.m. to 3:50 p.m.
The city of Lincoln will also do free leaf pickup inside the city limits. Pickup dates will be scheduled by ward and are as follows:
Ward 1:
Monday, Oct. 28

Thursday, Nov. 7

Wednesday, Nov. 20
Ward 2:
Wednesday, Oct. 30

Tuesday, Nov. 12

Friday, Nov. 22
Ward 3:
Friday, Nov. 1

Thursday, Nov. 14

Monday, Nov. 25
Ward 4:
Tuesday, Nov. 5

Monday, Nov. 18

Monday, Dec. 2
Leaves are to be placed in biodegradable bags at the curb by 7 a.m. the day of the scheduled pickup for your ward.
---

Last art exhibit of the year, 'Autumn Impressions,' makes colorful splash
Logan County Arts has completed a signature event with the opening of the current exhibition at the Lincoln Art Institute. "Autumn Impressions" is the last show of the organization's inaugural year.
It was one year ago when eight Logan County artists gathered at the Lincoln Art Institute with the intent of staging a few shows featuring the works of local artists, to bring an art scene to Lincoln. One year later, Logan County Arts has staged 10 shows and more than doubled the membership to 18.
The current exhibit, "Autumn Impressions," showcases works that run the gamut from a carved Halloween pumpkin with an iPod inside running a video, by artist Christopher Tice, to a three-dimensional multimedia piece by Beason artist Bert Hill.
Artist Pam Moriearty chose to create a sculpture to highlight the encroaching effects of acid rain on marble sculptures. Moriearty sees art as a surprise, an unexpected pleasure that comes about even though she sees our culture today as being overwhelmed with televisions, computers and other forms of visual stimulation.
Moses Pinkerton said, "Art is at its best when it can bring a feeling of beauty and serenity from between the borders of a frame."
Christopher Tice, who chairs Logan County Arts, describes it as a community-oriented and activity-based group. The organization hopes to expand its programs to include art lectures and demonstrations. Tice welcomes the public to stop by and join in the enjoyment of a vibrant local arts scene.
The group meets on the second and fourth Tuesdays of the month at 7 p.m. at the Lincoln Art Institute.
"Autumn Impressions" runs through Nov. 2 at 112 S. McLean and is open Saturdays from 11 a.m. to 1 p.m. For other special hours or to make an appointment, call 217-651-8355.
---

Lincoln College to honor inaugural Athletic Hall of Fame class at banquet
Central Illinois radio personality Sam Madonia will be back in Lincoln on Friday, Nov. 8, to serve as master of ceremonies for Lincoln College's inaugural Athletic Hall of Fame banquet. The banquet will be in the Davidson-Sheffer Gymnasium and includes a cocktail reception from 5:30 to 6:30 p.m., followed by dinner and the awards program.
The event is open to the public, and the deadline for reservations is 5 p.m. Friday, Nov. 1. The cost is $25 for adults and $15 for children age 18 and younger. Seating is limited, so early reservations are recommended. To make reservations or for more information, contact Mary Jo Werth in the college advancement office at 217-732-3155, ext. 217, or call 877-522-5867 toll-free, or email mjwerth@lincolncollege.edu.
The Athletic Hall of Fame recognizes and celebrates the long and exemplary history of athletics at Lincoln College. In naming the inaugural class, the committee selected individuals whose accomplishments and involvement represent as much of Lincoln College's athletic history as possible. The inductees are:
Jan Bowers, female athlete from the class of 1981
As a Lincoln College student athlete, Bowers played volleyball, basketball and softball. She played on the 1981 softball team that took third place in the NJCAA national tournament. She was named to the all-regional tournament team and received the Sportsmanship Award. She received several LC awards, including Most Dedicated Athlete, Captain's Award, Volleyball MVP and Rotary Club Female Athlete Academic Award, and she was the 1981 class valedictorian.
After graduating from Lincoln College, Bowers attended Illinois State University, where she was a two-year varsity basketball letter winner. She played on the 1983 GCAC Conference Champions team and in the NCAA national tournament.
After college, Bowers coached high school and college basketball and golf in Lincoln and Springfield, and was selected to the Illinois Basketball Coaches Association Hall of Fame for Outstanding Achievement in Illinois Basketball in 2009. Bowers has been a member of the Lincoln College faculty since 1984. She received LC's Jack D. Nutt Educator of the Year Award in 2010 and a Lincoln College Alumni Achievement Award in 2002.
Matt Hughes, male athlete from the class of 1995
Hughes was a wrestling all-American for Lincoln College, placing third at the NJCAA national tournament in 1995.
After graduation from LC, he continued to wrestle at Eastern Illinois University, where he was an all-American as a junior and senior.
Hughes went on to a successful Ultimate Fighting Championship career, fighting competitively from 1998 until retiring in 2013. He holds the record for most wins in the UFC, with 18, and was the UFC welterweight champion twice, successfully defending the title seven times.
Hughes has received many honors and awards, including being inducted into the EIU Hall of Fame in 2008, the UFC Hall of Fame in 2010, the NJCAA Hall of Fame in 2012 and the George Tragos/Lou Thesz Professional Wrestling Hall of Fame in 2013. Hughes received Lincoln College's first Young Alumni Achievement Award in 2009.
Tom Flynn, male athlete from the class of 1962
Known as the "Winchester rifle" for his ability to accurately fire off shots with the basketball, Flynn was a member LC's 1962 team that won the Illinois state basketball championship, played at the national junior college tournament and was inducted into the Illinois Basketball Coaches Association Hall of Fame in 2004.
Flynn still holds Lynx basketball records for best individual game average, most individual points scored in one season, most individual points scored in two seasons and most points scored in a national tournament -- records set years before American basketball organizations adopted the 3-point field goal. He also holds Lynx records for most rebounds (sophomore), most rebounds (career) and most rebounds in a single game. He is a member of the Super Lynx 1,000 Point Club.
Flynn is being inducted posthumously.
Joni B. Comstock, female coach from 1979 to 1983
During her tenure at LC, Comstock coached Lynx softball, volleyball, women's basketball and men's tennis, and also served as the assistant director of athletics.
She earned a master's degree from Illinois State University in 1981 and went on to pursue a doctorate and a career in collegiate athletics administration.
Since 2006 she has been the senior vice president for championships for the NCAA, where she oversees 84 championships played each year by teams from over 1,000 member institutions.
Comstock was named a Lincoln College Honorary Alumna in 2002. She has been recognized as a Distinguished Alumnus of Eastern Illinois University in 2007, an EIU Top 10 honoree in 40 years of Title IX, WACDA Regional Director of Athletics of the Year and Ohio Valley Conference Title IX honoree in 2012.
Charles "Chuck" Lindstrom, male coach from 1961 to 1983
After a brief career in Major League Baseball, Lindstrom came to Lincoln College in 1961 to teach geography and coach baseball. In 1963 he took on the additional role of director of athletics. During his tenure, competitive athletics at Lincoln College grew from just men's basketball, swimming, tennis and baseball to include soccer, golf, wrestling, women's basketball, softball and volleyball.
Lindstrom's philosophy of coaching laid a foundation for the athletics program at Lincoln College that continues today. Under his guidance, LC athletics received both state and national recognition, and LC athletes have been successful in both collegiate and professional athletics and in their post-athletic careers.
Lindstrom was named the American Legion Baseball Player of the Year in 1953 and was made an Honorary Alumnus of Lincoln College in 2009.
Jack D. Nutt, Lincoln College president from 1982 to 2002
Nutt was a visionary leader and administrator and has been widely credited with reviving and preserving Lincoln College as one the country's few private junior colleges. During his two decades as president, Nutt oversaw the development of the Lincoln College-Normal campus, the establishment of Midwest College of Cosmetology and the addition of several new buildings on the Lincoln campus, including the Meyer-Evans Student Center, Dooley Hall, Gehlbach Hall, the Behrends Admissions Building, and the Heritage residence halls and student services offices.
In 2001, he started the Lincoln Center campaign to raise funds for a larger athletic facility and larger space for the Lincoln museum on the Lincoln campus. The Lincoln Center, with its Jack D. Nutt Arena, opened in 2010. The Lincoln Heritage Museum is scheduled to open in the Lincoln Center in 2014.
Nutt was inducted into the Highland Community College Athletic Hall of Fame in 2001 and received an honorary Doctor of Humane Letters degree from Lincoln College in 2004.
Nutt is being inducted posthumously.
Dominic "Doc" and John Guzzardo, longtime friends and supporters of Lincoln College athletics
From the time Guzzardo's Italian Villa opened in Lincoln in 1957, the Guzzardo family has been a friend to Lincoln College athletics and a pillar of the local community. Family patriarch Dominic, or "Doc," was active in local government, the chamber of commerce and several prominent organizations.
He was also an avid sports fan who regularly attended Lynx games in Lincoln and on the road -- including traveling to Hutchinson, Kan., in 1962 when the Lynx basketball team competed in LC's very first national tournament -- and would often provide meals at the restaurant for teams when they returned late from away games.
Doc Guzzardo was recognized by LC as an Honorary Letterman in 1981.
He is being inducted posthumously.
John has continued in his father's footsteps: managing the restaurant; serving the community of Lincoln, including eight years as mayor; and supporting Lincoln College athletics, including helping kick off the Lynx basketball Hall of Fame Club in 2010.
John Guzzardo was made an Honorary Alumnus of Lincoln College in 2006.
The Lincoln College Athletic Hall of Fame recognizes student athletes, teams, coaches, managers, administrators, faculty, staff and friends who have distinguished themselves in the field of athletics at Lincoln College, either by their performance on an athletic team or by meritorious efforts in supporting the athletic program at the college.
The Hall of Fame banquet is part of the 2013 Homecoming and Family Weekend activities taking place Nov. 4-10 on the Lincoln campus.
---