Last art exhibit of the year, 'Autumn Impressions,' makes colorful splash

Send a link to a friend
[October 22, 2013] Logan County Arts has completed a signature event with the opening of the current exhibition at the Lincoln Art Institute. "Autumn Impressions" is the last show of the organization's inaugural year.
It was one year ago when eight Logan County artists gathered at the Lincoln Art Institute with the intent of staging a few shows featuring the works of local artists, to bring an art scene to Lincoln. One year later, Logan County Arts has staged 10 shows and more than doubled the membership to 18.

The current exhibit, "Autumn Impressions," showcases works that run the gamut from a carved Halloween pumpkin with an iPod inside running a video, by artist Christopher Tice, to a three-dimensional multimedia piece by Beason artist Bert Hill.

Artist Pam Moriearty chose to create a sculpture to highlight the encroaching effects of acid rain on marble sculptures. Moriearty sees art as a surprise, an unexpected pleasure that comes about even though she sees our culture today as being overwhelmed with televisions, computers and other forms of visual stimulation.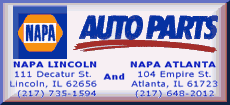 Moses Pinkerton said, "Art is at its best when it can bring a feeling of beauty and serenity from between the borders of a frame."
Christopher Tice, who chairs Logan County Arts, describes it as a community-oriented and activity-based group. The organization hopes to expand its programs to include art lectures and demonstrations. Tice welcomes the public to stop by and join in the enjoyment of a vibrant local arts scene.
The group meets on the second and fourth Tuesdays of the month at 7 p.m. at the Lincoln Art Institute.
"Autumn Impressions" runs through Nov. 2 at 112 S. McLean and is open Saturdays from 11 a.m. to 1 p.m. For other special hours or to make an appointment, call 217-651-8355.
[By CURT FOX]