[October 28, 2013]

Send a link to a friend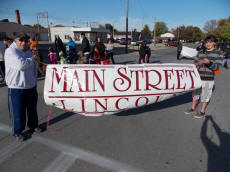 Saturday afternoon the excitement in Lincoln continued with the annual Trick or Treat with the Mayor, followed immediately by the downtown Trunk or Treat event.
Trick or Treat with the Mayor is the product of Main Street Lincoln. Each year, kids gather in Latham Park to make their way door-to-door at downtown businesses, trick-or-treating in a safe environment.
This year a record number of kids along with their parents filled the park prior to the parade through the downtown area.
Pictures by Jan Youngquist