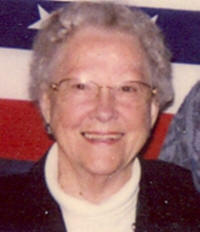 Dorothy Blaum
[September 03, 2013] NEW HOLLAND -- Dorothy C. Blaum, 86, of New Holland, died Aug. 1, 2013, at 10 a.m. at Lincoln Christian Village.
(Below is a copy of the obituary from the funeral home.)
___
NEW HOLLAND-Dorothy C. Blaum, 86, of New Holland, IL died at 10:00 a.m. August 1, 2013 at Christian Village of Lincoln, IL.
Dorothy was born January 10, 1927 in New Holland, the daughter of Charles and Minnie Pedigo Petitt. She married Merle K. Blaum September 22, 1952 in Greenfield, IL. He preceded her in death February 12, 2013.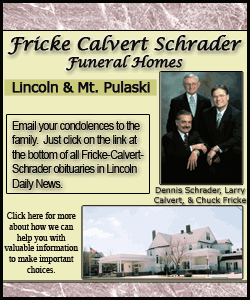 Dorothy is survived by one son: Kent R. Blaum of DeKalb, IL; one daughter: Karol Blaum of Lincoln; and four grandchildren: Kendal Gibbs, Keegan Gibbs, Abigail Ferguson, Dylan Blaum and one great grandchild: Mason John-Tyler. She is the last of her immediate family. She was preceded in death by her parents, husband, four sisters and one brother.
Dorothy had been the secretary at New Holland High School and Grade School. She was a member of First United Methodist Church of New Holland.
Dorothy's wishes were to be cremated. A graveside service will be held at 10:00 A.M. on Saturday, September 7, 2013, at Richmond Grove Cemetery, New Holland, IL. with Rev. Becky Barrow officiating. Memorials may be given in her memory to the New Holland Fire and Rescue. Services were entrusted to Fricke-Calvert-Schrader Funeral Home, Lincoln.