---
| | |
| --- | --- |
| Click on Maske Auction Service ad for sale bills and listings of auctions and goods. | |
---
Mrs. Della Logan Moving Auction
Lovely 3 Bedroom Home - 30 Pieces of Fiesta Ware - Personal Property

Thursday September 19, 2013
6:00PM
Go to www.dereklong.com for pictures!
Open house is scheduled for Monday, September 16 from
5-7 pm.
Having moved into a retirement home, I will sell the following real estate and personal property on the
premises located at #2 Elizabeth Court, Elkhart, Il. on:
THURSDAY, SEPTEMBER 19, 2013 at 6:00 PM.
Real Estate will sell PROMPTLY at 6:00 pm
followed by the personal property.
REAL ESTATE: This lovely 3 bedroom home has an eat-in kitchen, large living room and an attached single car garage. The home is situated on a shaded lot, has city water, a small out building and easy access to I-55. Tax ID# 14-700-002-00 w/ 2012 taxes @ $379.98.
TERMS ON REAL ESTATE: 10% down the evening of the auction with the balance due in 30 days at closing. Purchaser must have financial arrangements made before the auction. Bank letter of credit must accompany the final bid. Home is being sold "as is" and with the owner's approval.
PERSONAL PROPERTY: To be sold immediately after real estate. Over 30 pieces of Fiesta Ware including S&P, cups, pitchers, platter, bowls and plates in blue, orange, yellow and green; asst. of LuRay dishes; corner china cab.; oak kitchen table w/ 4 chairs; bakers rack; Magic Chef refrig.; iron bed; Bissell vac.; love seat recliner; platform rocker; wing back chair; matching sofa & love seat; some cut & pressed glass; copper boiler; plus more.
TERMS: Cash or check w/ proper ID. Not responsible for accidents. Announcements made day of auction will take precedence over printed material.
Mrs. Della Logan: Owner
Ms. Rita (Logan) Crifasi: P.O.A.
Derek Long Auction Service
New Berlin, Il.
Ph. 217/483-4379
Send a link to a friend
---

12:00AM

Logan County Fairgrounds, Lincoln, Ill.

OPEN HOUSE, Saturday, September 7 5 to 7 P.M.
See color photos and advance sale bills on our searchable web site: www.knollenberg.net or auctionzip.com #16096

FURNITURE-COLLECTIBLES-WOOD WORKING
TOOLS-SHOP ACCESSORIES

FURNITURE AND COLLECTIBLES: 2 Wardrobes (1) w/beveled edge mirror. 3 Dressers (1) Waterfall; China cabinet; Corner china cabinet; Hoover style cabinet; Oak library table; Small 6 drawer cabinet; Piano stool w/claw glass feet; Round oak table; Easel; Child roll top desk (needs assembled); Small table; (2) Brass beds, Large desk (needs assembled); Pie safe (needs repair); Wooden desk chair; (2) Music cabinets (need refinished); Wrought iron gate; Old wooden frames some oval w/bubble glass; Box of stained glass; (2) Old bird cages; #2 Brown crock; Small entertainment center; Small amount of oak and walnut lumber; Casters; Screws; Old furniture hardware; Lot of furniture related repair items; Old burlap feed sacks; Deer antlers; Hall Tree; Milk can, etc.

TOOLS & WOOD WORKING SHOP ACCESSORIES: Dewalt 12" Planer; Dewalt scroll saw; Craftsman tools including 10" Table saw 2 H.P.; 12" Band saw; 16 Gal. 6 H.P. Wet/dry shop vacuum; 5 H.P. 30 gallon Air Compressor; Router Kit; 5" Orbital Sander; 3 D. Sander; 12 V Lithium ion multi-tool kit; 22" 6.75 H.P. Self-propelled lawn mower; Continental 12 speed 5/8" drill press w/low and high range and stand; Delta 12" compound miter saw; Electric mortise cutter; Grisley woodworking vacuum system; 6" Belt sander; Ryobi spindle sander; Porter cable 7 Ό" circular Saw; Finishing sander; Profile sander; Cutout tool; Makita jig saw; Dewalt sawzall; Clamps; Laminate trimmer; Hole saws; Staplers; Brad nailers; Sanders; Other Hand power tools; and many other woodworking related items.

OWNER: Carol Coombs

Cash or Check w/Proper ID . Not Responsible for Accidents. Lunch Served

KNOLLENBERG AUCTION SERVICE
Mason City, ILL. Office Ph. 217-482-5351

AUCTIONEERS
Ron Knollenberg, (IL. License #440000160)

Cell 217-341-1219
Matt Swanson, (IL. License #041000157)

Cell 217-652-3403 Home 217-482-3010

Send a link to a friend
---
7:00 p.m.
Sale to be held at: Atlanta Firehouse, Atlanta, Il.
118.3 Acres, more or less or rolling ground, waterways & timber; 97.8 tillable acres, more or less Eminence Township,
Logan County, Il.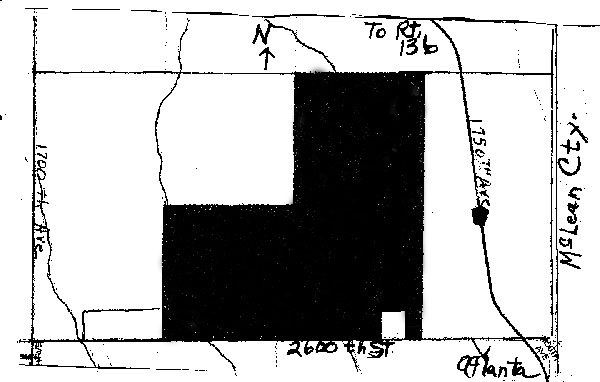 Directions: West of Atlanta on 1794 Ave. to 2600 St., then West Ό mile; or 1 mile South of Rt. 136 on 1794 Ave. to 2600 St., then West Ό mile; or 7 miles West of McLean, Il. on Rt. 136 to 1794 Ave.
Leona F. Bicknell Estate
Joseph B. Taylor, Attorney
216 S. Circle St., P.O. Box 478 Clinton, Il. 61727
Phone: 217-935-2183 or 27-935-8818
TERMS: 10% down on day of sale with balance due after the crop is harvested. Announcements on the sale of the sale take precedence over printed material. Owner has the to reject the bids.
White Auction Service
Auctioneer: Col. Dan White
Il. License Number: 440000381
501 S. Kickapoo St., Lincoln, IL
Phone: 217-732-4718 or Cell: 217-737-8984

Send a link to a friend
---

Livestock Equipment Auction
Thursday September 5, 2013
10:00AM



525 1000th St, Middletown, IL 62666
(4 miles West of Broadwell, IL)
The Conrady Family has decided to discontinue their hog confinement operation.
The auction will begin at the main farm approximately 4 miles west of Broadwell , IL on Co Rd 1000. After all of the items are sold at this location we will move to the Conrady farm located 1/2 mile east of Broadwell at 863 1010th St.
TRACTORS: IH 1456 tractor, S#13984, year Round Cab, 18.4-38" tires, 10,000+ hours 2 o/l, 2 pto; John Deere 4010, S#16369 diesel tractor, 10,000+ hrs., wide front, Syncro range trans.; JD 148 loader w/60" bucket;
SKID STEER: Case 1835 B skid loader, 3227 hrs, 60" bucket, S#17167959, 4 cylinder gas;
GRAIN TRUCK: Chevy C70 grain truck, 14' bed, 10.00-20 tires, 44,800 miles, 366 engine, VID#17DB9V179436;
MIXER GRINDERS: Artsway PM 35 & 30 Mixer Grinders, both w/digital scales;
MISC. FARM EQUIPMENT: Hanover 18,000 GVW triple axle gooseneck trailer; Lazy N 7'x28' Gooseneck Trailer; 1500 gal steel tank on John Blue tandem axle trailer, 14.1-16.1 tires; Pincor & Winco 55 \K, 1000 RPM generator on cart; Mayrath 6"&8"x62' augers; front mt. tractor fuel tank; 3 point bale mover;
LIVESTOCK RELATED: (2) Lifetime hog lift carts, 6'x15'; 8'x 30"& 8'x 36" lined incinerator w/250 gal fuel tank; 8ton Grain-o-vator feed truck box; 6' pipe gates & hangers; wire winder; show box; (10)LB White heaters; new feeder parts; (2) rolls, 48" Red Brand woven wire, never used; aluminum hand gates; heat pads; (6) tube exhaust fans; steel posts;
GATES: (54) 80"X36" rod gates; wood gates; 6' pipe gates; misc length gates; wire panels;
FEEDERS: (80) 9.5 bu. Osborn feeders; (3) Pannier 6 ton, 16 hole feeders;
UTLILTY SHED & BUILDINGS: 10'x12' utility shed on skids; (12) 12'X18' pull together sheds;
FARROWING CRATES: (22) Lifetime LG farrowing crates; (24) old style crates;
FLOORING; (16) sheets of 5'x8' Tenderfoot flooring;
BULK BINS: (19 Total bins) 30t-2 yrs old, (2)24t, 16t, (6)8t w/110' feeding system, several 7 & 4t & other misc bins;
MISCELLANEOUS:150 bales of wire tie straw; electric motors;
SKY BOAT: Star Craft 22' aluminum hull sky boat & trailer, 4 cyl inboard engine, needs work; 14' aluminum John boat;
Owners:
Margaret Conrady Estate, Mike Conrady, Tom Conrady
For more information contact Tom Conrady (217) 737-7313
Mike Maske Auction Service
119 S. Lafayette St., Mt. Pulaski, IL 62548
(217) 519-3959
TERMS: Cash or good negotiable check payable on the day of the Auction. Registration video taped and a valid photo ID is required to obtain a buyers number. Buyers must show provided number for each and every purchase. Announcements sale day take precedence over printed material. Not responsible for accidents or property after sold. All purchased items must be removed form the sale site within 2 weeks from the date of the auction.
LUNCH SERVED

Send a link to a friend