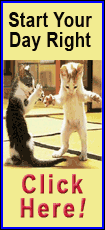 Of course, Adam Levine, frontman of Maroon 5 and a mentor on NBC's "The Voice," is.
Levine previewed his first foray into design -- a menswear line for Kmart -- for a small group of fashion insiders on Tuesday. "It's great to see all the tiny things we worked on, all the little details, up close and finished," he said.
"Honestly, I think fashion has a lot to do with when you wake up that day; a reflection of where you are, who you are and what you're going to do," said Levine. "I'm not making a pretentious fashion statement, but you have to put something on, and I'm not wearing a fig leaf."
He walked into the room wearing a purple T-shirt, slim black pants and tropical leaf-print Jams. With no bling, leather or luxury labels, one could imagine Levine putting some of the mass-market product, with a price range of $14.99-$69.99, into his own closet. "I definitely dress a certain way," he said.

Henley Ts, plaid button-down shirts, baseball caps and a camouflage cargo jacket were part of the collection that will land in 500 stores on Oct. 1. Before that, there will be flash sales for Kmart's Shop Your Way online customers offering single pieces, available for a week, coupled with exclusive video content.