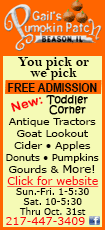 Obama arrived Thursday morning from Sweden, the first stop on his three-day overseas trip. The Stockholm stop was added after Obama canceled plans to hold talks ahead of the G-20 with Russian President Vladimir Putin in Moscow in retaliation for Russia granting asylum to National Security Agency leaker Edward Snowden.
The White House says Obama and Putin will not hold formal one-on-one talks on the sidelines of the summit.
The economy-focused summit is expected to be overshadowed by the prospect of a U.S.-led strike against Syria. Obama is seeking to rally support from international leaders for taking military action to punish Syrian President Bashar Assad for a chemical weapons attack.
[Associated Press; By JULIE PACE]
Copyright 2013 The Associated Press. All rights reserved. This material may not be published, broadcast, rewritten or redistributed.