Zeller Amusements has set up in the park, and the Atlanta Fire Department will serve catfish and walleye dinners Friday from 5 to 7 p.m. The prince and princess contest will be from 6 to 7 p.m., followed by the Smoke River Band from 7 to 9 p.m.

Saturday there will be a baking contest, fire truck rides for kids, a parade at 2 p.m., cloggers at 3:15, bingo, barbecue chicken dinner by the Atlanta Methodist Church, karaoke from 5 to 8 p.m., baked goods auction at 8 p.m., and Zeller Amusements from 2 to 5 p.m. and 6 to 10 p.m.
---

Lincoln Low Vision Support Group to meet Monday
The next meeting of the Lincoln Low Vision Support Group will be on Monday, Sept. 9, from 1 to 2 p.m. at Lincoln Christian Church, 204 N. McLean. Use the door off the parking lot, under the canopy.
The speaker will be John Corneille, a blind attorney from DeKalb. He is a member of the board of Foundation Fighting Blindness and his mother lives in Lincoln.
Those attending are welcome to bring guests.
For more information, contact Sandy at 732-6528.
---

Bonanza Steakhouse to honor first responders
Free buffet Sept. 11 for active first responders
To commemorate the anniversary of Sept. 11, 2001, the Borst Bonanza Steakhouse at 1121 Hickox Drive in Lincoln will offer a free buffet on Sept. 11 to all active fire, police, and emergency medical personnel in uniform or with an ID badge.
"Our entire steakhouse team wanted to honor the heroes of 9/11 and also show appreciation to our own community's first responders who demonstrate courage every day by risking their lives to save others," said Brett Borst.
The Bonanza Steakhouse has been owned by the Borst family for 30 years. The restaurant features a buffet with a large variety of "all you can eat" salads, soups, appetizers, vegetables, breads, hot main courses, and desserts, as well as flame-grilled steaks, chicken and seafood.
---

Mount Pulaski history books offered for sale this weekend
MOUNT PULASKI -- The Mount Pulaski Township Historical Society will have a book sale during the 121st Fall Festival, Sept. 6-7. Books offered for sale will be the "125th Mt. Pulaski History (1836-1961)," "150th Mt. Pulaski History (1836-1986)" and "175th Mt. Pulaski History (1836-2011)." The books will be available at the museum on the south side of the square, across from the courthouse.
All editions contain oodles of information on area families, businesses, churches, schools, sports, music, military, events and achievements.
"Just looking at the ads is a hoot!" a news release said.
The books are especially for those who have had siblings, fathers, mothers, grandparents, great-grandparents, great-great-grandparents, grandchildren, great-grandchildren and friends who have helped shape Mount Pulaski over the years.
The society also offers mail-order service for these books. For more information, contact Phil Bertoni, publicity and speaker coordinator, at inotreb@frontiernet.net, or Sue Schaffenacker, president, at sueeddie@frontier.com.
---

Audra's Studio of Dance hosts 'Spotlight on the Studio'
Audra's Studio of Dance will host its first "Spotlight on the Studio" event Sunday, Sept. 8. The studio will be open to the public from 1 to 3 p.m.
Audra's is at 214 S. McLean St., just off the downtown square.
The afternoon event will include giveaways, tours of the studio and refreshments.
"We are very excited about what is going on in the community of Lincoln and we look forward to being a part of it," said dance instructor Audra Turley. "A 'Spotlight on the Studio' is just one way we are stepping forward and getting more involved."
Audra's Studio of Dance offers dance instruction to aspiring individuals ages 3 and above. Dance classes vary and include ballet, Celtic, clogging, hip-hop, jazz, pointe, tap, tumbling and more.
All of the instructors have many years of dance experience, both in performance and instruction. Mrs. Audra, owner and instructor at the studio, is a master graduate of Dance Educators of America. Miss Brande is a graduate of Lincoln College with an associate degree. Mrs. Kelsey is a graduate of Millikin University with a bachelor's degree.
---

Monthly electronics recycling collection Sept. 14
Habitat for Humanity of Logan County will host its monthly electronics recycling collection on Saturday, Sept. 14, from 9 a.m. to noon at the Habitat warehouse, 915 Woodlawn Road. The collection is offered free of charge to the public.
Habitat for Humanity Logan County continues to collect televisions for recycling. For a complete list of acceptable items, see below.
The following items will be accepted:
Computer equipment, including laptop and desktop personal computers, monitors, keyboards, printers, scanners, cords and cables, hard drives, CD-ROM, DVD, Zip and tape drives

Entertainment equipment, including TVs, radios, stereo and game systems, game controls, VCR and DVD players, and cameras

Small business equipment, including phones, copiers, typewriters, fax machines and calculators

Small household and countertop appliances will also be accepted, as well as aluminum, copper, brass and stainless steel items.
Electronic equipment is not to be left at the site and is not collected outside of the hours of the collection.
Information on the electronics recycling program is available through Habitat for Humanity of Logan County by contacting the office at 217-732-6412 or visiting the agency website at www.habitatlogan.org.
---

Monthly glass recycling collection Sept. 14

The Logan County Joint Solid Waste Agency, in collaboration with the Lincoln Woman's Club and Verallia Saint-Gobain Containers, will host the monthly glass collection on Saturday, Sept. 14, at the Logan County Fairgrounds from 9 a.m. to noon. Participants should use the Main Gate entrance.

The collection will be canceled in event of inclement weather or extreme heat. Glass is not to be left at the site prior to the hours of the collection.

Participants are reminded that only container glass will be accepted during the collection. Container glass is any glass that originally held either a food or beverage product. All colors of glass will be accepted. The glass recycling program does not accept broken glass due to safety issues.

Participants are asked to thoroughly rinse all containers and to remove all plastic or metal lids, sleeves and rings. Labels, either foil or paper, may be left on the containers. Due to the large volume of glass being collected, the glass recycling program reserves the right to refuse any glass that does not meet the preparation guidelines.

The glass recycling program does not accept light bulbs or fluorescent lights, window glass, mirrors, ceramics, dishware or CorningWare items. Participants are asked to comply with the glass collection guidelines, as a single piece of ceramic material or a light bulb can contaminate an entire load of glass.

Recyclers are encouraged to "like" Logan County Joint Solid Waste Agency on Facebook to access the most current information, updates and cancellation notices. As always, information on the county's recycling programs is available by contacting the office at 217-732-9636 or visiting the agency website at www.co.logan.il.us and selecting Joint Solid Waste Agency.
---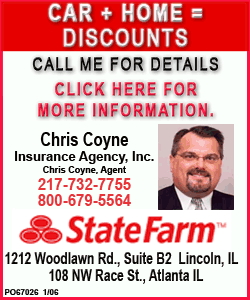 ---

Firefighter prints to benefit Oasis to debut Sept. 8

Sponsors of the prints that will be sold in conjunction with the Sept. 15 Firefighters' Picnic on the square and the Oasis Fire Fund drive met at Lincoln Mayor Keith Snyder's office Friday morning. Available to look at and to review were 17 glossy prints, 13 by 19 inches, of photos taken of the Oasis fire on June 21.

The prints, which will sell for $10 each, will be available as long as there is interest. The cost of the initial release of 500 is being paid for by community leaders and businesses; thus, all sales proceeds from the initial offering will go into the Oasis Fire Fund.

Committee member Mike Fak said a preliminary showing of the prints at several recent events showed a strong interest in several of the prints, with all receiving at least some attention.

"We have an idea which ones we will sell more copies of, but you can never be sure," Fak said. The print run is flexible, with increases in production of whichever prints receive the most interest being no problem for Lincoln Printers, a sponsor and the company that is doing the prints.

The prints will make their debut at the Sept. 8 Legion Post 263 breakfast buffet, and a respectable quantity will be available for purchase that morning.

The prints will also be on display at the Lincoln Art Institute on the square, along with several dozen other photos of the fire. Patrons will be able to buy the prints at the institute throughout September. Other locations where the prints can be purchased will be announced later.

The committee hopes that the demand for these prints will exceed the initial printing and that several more runs of the prints will be needed.
---

Lincoln Honor Flight scheduled for Sept. 10
SPRINGFIELD -- On Sept. 10, Land of Lincoln Honor Flight will honor 28 more World War II veterans and 57 more Korean veterans with a one-day trip to Washington, D.C., to see the World War II Memorial, Korean Memorial, Vietnam Memorial, Arlington Cemetery, National Air and Space Museum, and other memorials. Seventy-five guardians who are responsible for the veterans' comfort and safety will also be on this trip, which is the 23rd Land of Lincoln Honor Flight and the fifth flight this year.
Donations and efforts of many individuals, organizations and businesses have allowed Land of Lincoln Honor Flight to honor these veterans.
The public is invited to a "welcome home" ceremony for these WWII and Korean era veterans when the plane arrives back at Abraham Lincoln Capital Airport at 9:30 p.m. on Sept. 10. Wear red, white and blue to show your appreciation.
Veterans on this flight come from the Illinois towns of Alton, Arenzville, Ashland, Athens, Bloomington, Bunker Hill, Bushnell, Canton, Chatham, Clinton, Cuba, Delavan, Divernon, Eureka, Flanagan, Forsyth, Franklin, Glenwood, Godfrey, Granite City, Greenview, Gridley, Havana, Hillsboro, Hopedale, Hudson, Jerseyville, Kincaid, LeRoy, Lincoln, Mason City, Mechanicsburg, Middletown, Minier, Morton, Normal, Palmyra, Peoria, Petersburg, Rochester, San Jose, Springfield, Staunton, Stonington, Taylorville, Tremont, Wapella, Waverly, Williamsville and Winnetka.
Applications are still being accepted for the following, but WWII veterans will be served first:
Veterans who enlisted by Dec. 31, 1946 (WWII -- 50 currently on the list)

Veterans who served Jan. 1, 1947, through Dec. 31, 1957 (Korean era -- 207 currently on the list)

Veterans who served Jan. 1, 1958, through May 7, 1975 (189 currently on the list)
The last 2013 flight will be on Oct. 22 and is full.
The Land of Lincoln Honor Flight board welcomes the chance to speak to organizations, businesses, churches, conventions or other groups about the Honor Flight mission, future flights, guardian duties, fundraising and donations.
For more information about how individuals and groups can help the mission, how to obtain applications, how to become a member, and to learn more about Land of Lincoln Honor Flight, go to www.landoflincolnhonorflight.org or contact Ray Wiedle: home, 314-427-2317; cellphone, 217-622-1473; email arwiedle@sbcglobal.net.
---

'Prayer in the Park' at noon Sept. 11
On Sept. 11 at noon, a group will gather at the bandstand in Latham Park to spend a short time in prayer for the physical and spiritual needs of Lincoln and Logan County.
The group would like to pray for answers that we are desiring to see in our community, churches, schools and local government. The focus will be on thanksgiving and the plans God has for this community to bring His wisdom, opportunities for growth and also healing of hearts, lives, businesses and relationships.
The public is invited to join this short time of prayer.
---

Holy Family Catholic Church to sponsor blood drive
To help ensure an adequate blood supply for the region, Holy Family Catholic Church, 316 S. Logan St. in Lincoln, is hosting a blood drive on Friday, Sept. 6, from noon to 6 p.m.
For your convenience, call 1-866-GIVE-BLD (1-866-448-3253) toll-free to sign up, or schedule an appointment online using sponsor code 60505 at www.bloodcenterimpact.org. Walk-ins are also welcome and truly appreciated.
Central Illinois Community Blood Center, a not-for-profit organization, is the provider of lifesaving blood for 14 hospitals throughout central Illinois, including Abraham Lincoln Memorial Hospital in Lincoln and Memorial Medical Center and St. John's Hospital in Springfield. CICBC is a division of the Mississippi Valley Regional Blood Center, which collects over 180,000 units of blood annually and serves 87 hospitals in Illinois, Iowa, Missouri and Wisconsin.
---