Park district notes
From Roy Logan, program coordinator

Send a link to a friend
[September 06, 2013] Fall is upon us and it is time for co-ed volleyball registration. All necessary forms are available to pick up at the front desk at the park district headquarters. Registration begins Sept. 6 and runs through Sept. 24. Fees will include approximately 10 matches for the fall season. Play will be on Tuesday evenings, starting Oct. 1, and is expected to run through Dec. 3. This recreational league is a great way to get some exercise and spend an hour with friends or co-workers. Come on out and enjoy a great time.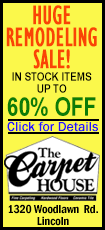 As we experience cooler weather and shorter days, now is a good time to "fall back into fitness." The Fit Zone personal trainers have some special offers to clients signing up with them during September. Oftentimes a trainer can serve as a great personal motivator and also help set up a fitness program designed with your goals in mind. Call the park district or stop in and check out the offers.

Basic dog obedience classes are being offered again. The goal is to help families enjoy their canine companions by providing basic training techniques. Obedience training is the very best thing you can do for the relationship with your dog because it helps establish your dog's place in the world and understand right from wrong.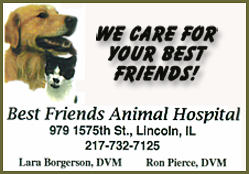 Timbercrest Veterinary Service and Railsplitter Veterinary Wellness Center are teaming up with the Lincoln Park District and Mike Bieser to help teach basic training techniques such as leading on a leash, heel, sit and stay. Bieser is the owner of Canine Training Institute and has trained police dogs for a number of years.
Handlers must be a minimum of 8 years of age. Proof of vaccination by a licensed veterinarian must be provided before classes start. Vaccination requirements are as follows:
Less than 4 months of age: Distemper-Parvo (DA2PPv), Bordetella (kennel cough)

More than 4 months of age: Distemper-Parvo (DA2PPv), Bordetella (kennel cough), rabies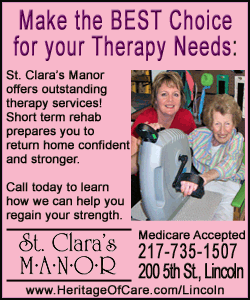 Classes will meet on Sunday afternoons for four weeks, beginning Oct. 13. The sessions will be from 1:30 to 2:30 p.m. in the ballroom at the park district complex. Cost is $50 per dog for district residents and $60 per dog out-of-district. Timbercrest and Railsplitter are offering $20 vouchers toward the cost of registration. The vouchers must be picked up at Timbercrest or Railsplitter and must accompany registrations. More details are available at www.timbercrestvet.com and www.lincolnparkdistrict.com.
The park district is getting contacts and questions about some other early fall programs as well. The district will still offer Junior Railer boys basketball. Registration will begin in early October and close out in early November. Trunk or Treat downtown with the mayor will be on Saturday, Oct. 26. Halloween FunFest is still on the docket and is scheduled for Wednesday, Oct. 30, beginning at Symphony of Lincoln and concluding at the park district complex on Primm Road. More details on these events will be coming as the time draws closer.
[Text from file received from Roy Logan, Lincoln Park District]